Back in 1996 Audi restyled the A6 with similarly smooth, rounded surfaces to this current version, which make it a leader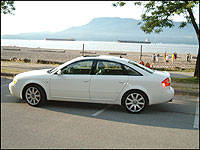 Others have tried but failed to capture the A6's sleek and proportionately perfect design. (Photo: Rob Rothwell, Canadian Auto Press)
in design to this day. Other manufacturers have tried but failed to emulate the demur, sleek lines of the A6, which I find so appealing. Proportionately the A6 is perfect. Its spacious cabin is surrounded by glass, which contributes to the airy, open feeling the sedan imparts to its occupants. The narrow "C" pillar at the rear of the cab aids in providing the driver with tremendous 360-degree visibility.
Occupants no doubt will enjoy the high levels of comfort found within as well. My test unit was loaded with requisite features found in most premium luxury automobiles, such as power everything, loads of leather, heated seats, dual climate control, rear seat air conditioning and a concert quality audio system. But what distinguishes the A6 from the mainstream luxo crowd is Audi's attention to detail, high quality materials and stunning design work. I have always admired how the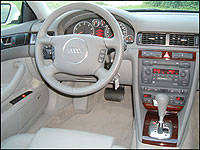 What distinguishes the A6 from the mainstream luxo crowd is Audi's attention to detail. (Photo: Rob Rothwell, Canadian Auto Press)
German brand has achieved such clean and functional interiors. Facing the driver is a large analog tachometer and a similarly large speedometer. These primary gauges are surrounded by a full set of smaller gauges, which include fuel, engine temperature, volts and oil pressure.
The center stack houses the audio head and ventilation controls, which are mostly button actuated. Although I usually abhor an excessive array of buttons, Audi has kept their size fairly large and clearly marks the assigned functions, resulting in intuitive adjustment and setting actuation. Although some manufacturers have superceded Audi's ability to design systems that are straightforward and idiot proof to use, few have managed to design more pleasing aesthetics.