A Pretty Face and a Nice Personality
The popular trend of changing an ever-so-practical sedan into an even more practical hatchback has taken place with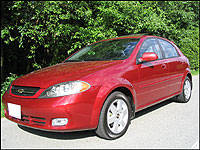 The new Optra5 follows the latest automotive trend of manufactures making hatchbacks out of popular sedans. (Photo: Alexandra Straub, Canadian Auto Press)
Chevrolet's new Optra. Last year, the American car manufacturer introduced a lineup of new (and revamped) cars to the Chevy family. Among those cars were the new Malibu,
Aveo
,
Epica
and the Optra. The Malibu sedan has already been transitioned into the hatchback dubbed the Malibu Maxx, and now the Optra has transformed into the
Optra5
. Previously, during a launch program, I had the opportunity to drive the Optra sedan, but the 5-door model wasn't ready at that time. It is now, giving me the chance to test the car out for a much longer period of time. The Optra5 LS shares the same engine and similar standard features to the sedan, I found the 5-door to have that extra bit of something that made it all the more appealing.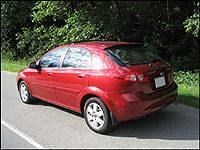 While the hatchback version does look more stylish than the sedan, the design makes visibility a problem. (Photo: Alexandra Straub, Canadian Auto Press)
First of all I thought the 5's exterior had much more spunk and pizzazz when comparing to its somewhat staid 4-door sibling. I found the styling to be bubbly and Saab-esque; it didn't look frumpy and had some nice lines, especially the taillights. The rounded rear end, however, made for terrible rearward visibility. The rear window had little to no depth so I could barely see anything while backing up or parallel parking. The large "C" pillars didn't help the cause either, but at least when looking in my rearview mirror while driving I could see all that I needed to see. Ideally it would have been better if the rear window was larger.