Same Name, Whole New Bag of Tricks
The current Aviator isn't exactly Lincoln's top seller, surprising those outside of Ford Motor Company's Dearborn, Michigan head office as well as many automotive journalists that predicted nothing but success for the midsize luxury SUV.
To the surprise of Ford executives and automotive journalists alike, the current Lincoln Aviator is not a top seller. (Photo: Ford Motor Company of Canada)
Just why the Ford Explorer-based SUV has been snubbed by consumers might have more to do with the success the domestic premium nameplate is experiencing with its full-size Navigator, with U.S. buyer's preferring larger sport utilities. In Canada the Aviator has done better, prompting the division to keep it in its 2004 lineup despite it being dropped south of the border.
Following Lincoln's pattern of basing its cars and SUVs on Ford-derived architecture, the brand will release an all-new Aviator for the 2005 model year. Compared to the current Aviator-Explorer duo, it will be harder to see the similarities to the 2005 Ford Freestar that donates its basic architecture. This bodes well for performance potential, as the Freestar is based on the sensational Volvo P2 platform that underpins the award-winning XC90 .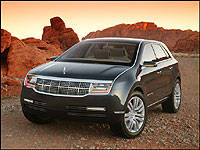 Ford will release an all-new car-based Lincoln Aviator for the 2005 model year. (Photo: Ford Motor Company of Canada)
"The next-generation Aviator is a new kind of Lincoln; it's our first-ever, car-based SUV," stated Phil Martens, Ford Motor Company group vice president, Product Creation.
That means Lincoln should fair better against such best-in-premium-class sellers as the Lexus RX 330 and BMW X5, due to better on-road handling and a more comfortable ride. In concept form it gets massive 21-inch diameter cast and polished aluminum wheels, complete with the Lincoln star at hub position. Of course production models will receive more conservative rims, but much of the Aviator concept is expected to make it to local showrooms relatively unchanged. According to the press release, "this sneak peek strongly suggests the direction that the exterior design will take moving forward."