An Ideal Balancing Act
It would be great if car manufacturers could sell cars to consumers like they do to automotive journalists. I just spent
Mazda doesn't make any boring cars, from the entry-level 3 to its flagship RX-8. (Photo: Trevor Hofmann, Canadian Auto Press)
the better part of a day driving Mazda's full lineup of new cars, from the 3 right up to the
RX-8
. While flying to some secluded area for the specific purpose of test driving an upcoming vehicle isn't unusual, getting to drive each and every one of an automaker's cars back to back is a unique opportunity, which in this case allowed me to get a feel for the Mazda brand as a whole. In a nutshell, Mazda doesn't make any boring cars. It also doesn't make any cheap quality cars, with the entry-level 3, which is considered a compact premium in Europe, redefining Canada's compact market due to extremely high interior quality standards,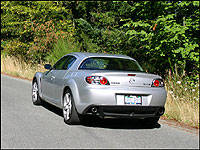 After driving Mazda's entire lineup, it makes sense that the RX-8 would inspire me the most. (Photo: Trevor Hofmann, Canadian Auto Press)
top-tier performance and a perceived solidity that is second only to the more expensive Volkswagen Jetta. The same attention to detail can be experienced in the
Mazda6
, in all of its three configurations, which now include sedan, 5-door liftback and sport wagon, the roadster of modern day roadsters,
MX-5 Miata
, and top-line RX-8 coupe.
I had recently spent a great deal of time with the brand's 6, having just tested and written about the new 5-door Sport and wagon, so I chose to focus on three cars I either haven't written about lately, the 3 Sport, MazdaSpeed Miata and RX-8. You can expect stories on the 5-door 3 and Miata shortly, but the car that inspired me the most, for obvious reasons, got first billing.