Is it Good Enough to Convert the World to Cadillac?
The previous two generations of Cadillac Seville went a long way to change consumer perceptions about GM's premium division.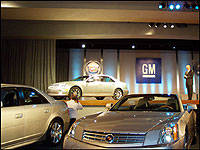 Cadillac, with its new edgy lineup, has been trying hard to shake its old image of stodgy land-yachts. The new STS, shown here at its debut in New York, should continue the brand's move to global respectability. (Photo: Trevor Hofmann, Canadian Auto Press)
For the most part the brand's old image is associated with stodgy land-yachts often used in the limousine trade. These were hardly driver-oriented cars, with most buyers choosing to ride in the back. An old joke poked fun at the brand saying, everyone eventually gets to ride in a Cadillac except sometimes the opportunity comes too late to fully enjoy it.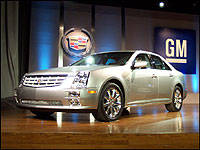 The Seville name, that first appeared in 1956, will disappear in 2005. It will be replaced by the new STS designation. (Photo: Trevor Hofmann, Canadian Auto Press)
That statement is still true, however, with Cadillac continuing to be the most prolific supplier of rolling chassis' for hearse builders in North America. But unless you're following a funeral procession, literally or figuratively, the crested wreath brand has probably moved up higher on your shopping list in recent years than anytime in the past. Cadillac's Escalade SUV (in its various incantations), CTS sedan, XLR hardtop roadster and SRX crossover sport utility have redefined the brand, with only the full-size DeVille (the model used for limo and hearse builders) and midsize Seville needing to be remolded into the luxury marque's new art & science approach to design.
Those waiting for a new Seville had better hold their collective breath, as the name is gone for 2005. The new car takes on the designation currently added to the Seville's sportiest model, STS, to bring it into line with Cadillac's current alpha naming strategy.