The good ol' country boy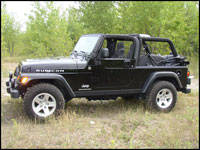 2005 Jeep TJ Unlimited Rubicon (Photo: Michel Deslauriers, Auto123)
Something weird happened during this black Rubicon's week in my clutches. All of a sudden, there are TJs, YJs and a few CJs everywhere. And everybody that's driving one salutes me as they pass by. They wave and nod. It seems like they're telling me: "You're the man, Man," referring to my choice in vehicles. If they only knew I was a traitor... I had joined a cult without learning the secret handshake!
I generally do not like sport-utility vehicles. The main reason being that I consider most SUVs to be pretty much jacked-up wagons, that don't have true off-road capabilities, and their owners wouldn't dare take them off the pavement anyways. But this Jeep can go just about anywhere that has something remotely resembling a trail or a path.
This
TJ
seems rough around the edges when you first drive it. On the first day I had it, my inner organs played musical chairs as I tried to get used to the bouncy ride. Don't forget--this is the Rubicon model, with knobby tires that beg to climb rocks and Geo Metros. So I imagine the ride in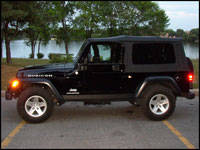 2005 Jeep TJ Unlimited Rubicon (Photo: André Deslauriers)
lesser TJ trim levels should be less excruciating. But then again, after two days, when the music stopped and all my organs settled down (I can't seem to figure out which organ didn't get a chair on time), it seemed almost enjoyable. Maybe the longer wheelbase of the Unlimited had something to do with it. Highway cruising is acceptable, but with the top down, it seemed to struggle past 110 km/h. At 120 km/h in a slight curve, things got spooky so I slowed down. I should know better than speeding in a vehicle with a center of gravity that's higher than my knees...
This Rubicon is powered by a low-tech drivetrain, but a proven one nonetheless. The 4.0-litre inline-6 produces 190 horsepower and 235 pound-feet of torque. The torque peaks at 3,200 rpm, which helps this 3,700-lb (1,692 kg) vehicle take off swiftly. The engine has a truckish sound to it, more than Jeep's more modern 3.7L V6 that powers other models. And what's this? A 6-speed manual transmission in a TJ? Yes, but the 1st gear is so short that you're upshifting to second before you know it. The last couple of days, I was launching it in 2nd gear, which was pretty effortless for the 6-cylinder engine. I was expecting a heavy clutch and a reluctant shifter, but the smoothness of its transmission was surprising.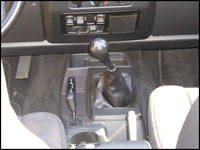 2005 Jeep TJ Unlimited Rubicon (Photo: Michel Deslauriers, Auto123)
The suspension consists of solid axles both front and rear. The Rubicon edition comes equipped with a set of Goodyear Wrangler LT245/75R16E, 31-inch puncture-resistant tires. There is a manually-operated Rock-Trac transfer case with 2H, 4H and 4L positions. Also, you can operate a button on the dash for Jeep's Tru-Lok, which are air-actuated front and rear differentials. By activating Tru-Lok, you can lock the rear differential only, or both front and rear. When a wheel is slipping, the system sends more power to the other wheel to prevent you from getting stuck. Dana 44 front and rear axles and an array of skid plates complete this off-road package. I just couldn't resist finding a spot to try to get stuck in.