When Kia started becoming a force to be reckoned within the Canadian marketplace, many folks wondered how their sensible and affordable vehicles would pan out in the long term. After all, long-term reliability is a success factor for any automaker planning an extended stay on our shores.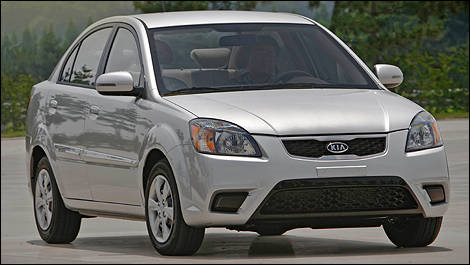 2010 Kia Rio (Photo: Kia)
A lot can be said about a manufacturer by how they execute their cheapest model—which is called the Rio, in Kia's case. The last full generation of this machine was a four or five-door subcompact riding the same platform as the
Hyundai Accent
. Consider a used Rio if shopping out comparable models like the
Toyota Yaris
and
Honda Fit
.
Generation-two Rio's got a 1.6 litre, 110 horsepower engine, five-speed manual or four-speed automatic transmission, and feature content including cruise, air conditioning, USB audio connectivity, heated mirrors and tinted glass. All models were front-wheel drive.
Most Rio owners say that good overall value and a good warranty attracted them to the car, while a surprisingly refined ride and peppy performance helped seal the deal. Gas mileage, headroom, comfort and even styling are also highly rated. Many Rio owners coming from comparable Toyota and Honda products agree that the Rio is a well-done small car at a reasonable price.
Rio's commonly-stated downfalls deal with cheap interior plastics, rattles and squeaks as the car ages, a 'wimpy' factory stereo system and a 'plain' look to the cabin. Some drivers also wish for a quieter ride.
On a test-drive of a potential used Rio model, a few potential issues should be noted. Interestingly, a variety of potential electronics-related issues were noted by owners, including random illumination of the airbag or check engine lights, head and taillight failure, battery failure and the like.
Ensure all electronics, including head and taillights, work as expected. Note any warning lights in the instrument cluster, and determine why they're illuminated if present. Engine and automatic transmission performance or roughness issues may also be caused by a bad sensor or computer—but have a trained Kia mechanic check to be certain.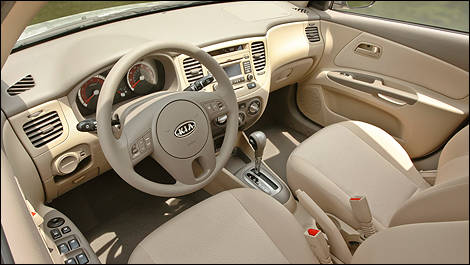 2010 Kia Rio (Photo: Kia)