Still competitive for its age
It's the X-Trail's second year on the Canadian market, so you'd
2006 Nissan X-Trail (Photo: Philippe Champoux, Auto123.com)
instinctively think it's a fairly new design. However, the current X-Trail is already offered in other countries for a few years now.
Nissan seemed to have badly needed a SUV that could give the segment benchmarks, the Honda CR-V and Toyota RAV4, a run for their money. So, they decided to bring over the X-Trail. With an old design confronting stiff competition and being overshadowed by a bigger brother (the Xterra) that's racking up awards, how could the X-Trail ever shine?
It does.
Styling
From the outside, the X-Trail doesn't have Nissan's new edgy look, which immediately gives away the fact that it's a half-dozen years old. The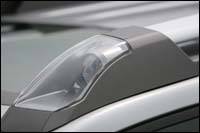 2006 Nissan X-Trail (Photo: Philippe Champoux, Auto123.com)
chrome door handles aren't aerodynamic. It's tall and narrow, and doesn't sport the hiking-boot style of the Xterra. And those round reflectors mounted on the rear bumper look like they were stolen off a kid's bicycle. Still, it has a clean shape and is rather attractive overall.
This X-Trail, equipped with the Adventure Package, includes a bigger roof rack with integrated roof lights that replace the bumper-mounted fog lamps. They look cool and can shine your whole house when parked in front of the living room window, but I sure wouldn't go off-roading in the dead of night, if that's what they're for. The package also comes with nice 17-inch alloy wheels.
On the road
The 4.0L V6 in the Xterra is so powerful, but could you still be happy in a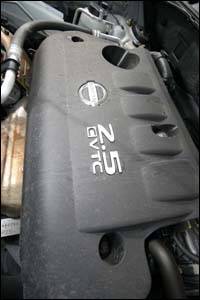 2006 Nissan X-Trail (Photo: Philippe Champoux, Auto123.com)
4-cylinder X-Trail? You can. The 165-horsepower 2.5L engine is up to the task of getting the truck moving at a fast pace.
I was surprised at how composed the X-Trail feels on country roads and on the highway. It's a solid truck with handling that might not be as good as the CR-V or RAV4, but I have nothing to complain about. The ride is very smooth, and road imperfections barely upset the chassis. I don't like being bruised and battered behind the wheel of high-riding and bouncy SUVs, but the X-Trail is devoid of that.
The X-Trail and its competitors, such as the aforementioned CR-V and RAV4, all boast about the same power and torque numbers. And although the Nissan is a little lighter than the two others, the difference in performance is negligible. As for fuel economy, the X-Trail falls a little short, averaging 12.2 L/100 km during the test.