GMC Struts their stuff with latest crossover
Just another crossover?
The floodgates are open. Every manufacturer has a crossover, and choosing one has never been more complicated. These rolling identity crises are now seen just about wherever you look--not that it's a bad thing. They're often one of the best ways to satisfy a diverse set of needs from one vehicle.
GMC has created a contender to enter this market with, and it's called the Acadia. I'm happy to report that it's not just another drop in the ocean, so to speak.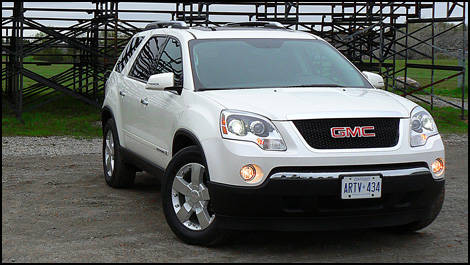 The new GMC Acadia is especially handsome thanks to its chromed 19" wheels and dual exhaust.


Acadia's for everyone
There's an Acadia for every family. Pricing starts with the FWD base model at $36,495, all the way up to around $60,000 in SLT AWD trim like thid loaded tester. GMC wants to make sure you'll wind up with one of these in your driveway, and it shows.
The advantage
Look- a $60,000 crossover has it all. Everything that could be automatic, motorized or powered, is. But the General has focused on the features that not everyone offers, devising themselves a real advantage.
Aside from the xenon lighting, 19" wheels and chromed dual exhaust on the outside and three-zone climate control, navigation, XM Satellite radio and DVD player on the inside, you'll find the loaded Acadia packs plenty of not-so-common features that impress drivers and set it apart.
Remote start is fitted with heated leather seats: must-haves in Northern climates. It gets better though. There's a function which heats the washer fluid up before spraying it at the touch of a button. Wait about 15 seconds, and hot spray cleans through frozen or bug-caked windshields with ease. Awesome!
A heads-up display projects information into the driver's line of sight, meaning you needn't take your eyes off the road to see vital running data. It's only distracting for the first few minutes, until proving a fantastic feature for safety and wow-factor.
There's a 110-volt power outlet, allowing recharge of the family's digi-cam batteries on long trips. A comprehensive driver information system can read out anything from tire pressures to average fuel economy.
The list goes on and on.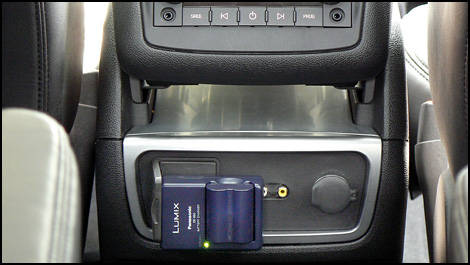 The rear has a 110-volt power outlet, perfect for plugging in all your accessories.