A serious contender
Seven years is a pretty long time before redesigning a vehicle. However, Suzuki hit the bull's eye with its all-new 2007 Grand Vitara. Engineers learned a lot from their mistakes with the previous generation. The little Japanese SUV is better than ever, so much so that it becomes a serious threat to the
CR-V
s,
RAV4
s and the like.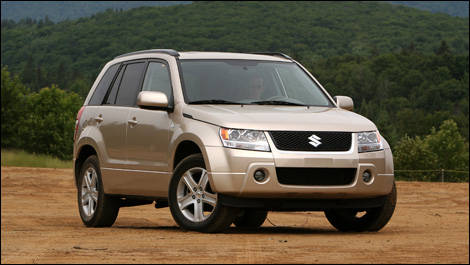 The new Vitara is far more impressive than the last generation.


Well-executed styling
The new Grand Vitara's appearance is decidedly modern and head-turning, looking more expensive than it really is. For any vehicle to have a successful design, creating ideal proportions is important. Suzuki nailed it perfectly with the new model. The 17-inch rims are superb and they magnificently fill the wheel wells. The bulging fenders and the swooping hood that surmounts a new pair of headlights create a sleek and aggressive face. That said, body styling is no doubt the highlight of the new Grand Vitara.
Inside, designers have done a great job overall. The material selection is good and, except for a few questionable plastics on the dashboard, the entire layout is very homogeneous. On the other hand, I was slightly disappointed with the build quality: some parts seem to have been installed hastily. And please, could we have a real hatch? You know, one that doesn't open laterally (like other Japanese SUVs) and doesn't let rain or snow wet your luggage when the door is open? Come on, Suzuki!
That said, cargo room is on par with the competition and the cargo area in itself is well appointed.
More mature
As for the ride, the Grand Vitara has improved markedly. The four-wheel independent suspension allows for increased stability on bumpy roads. The vehicle is also more mature and better calibrated, providing surprising handling for an SUV. When conditions worsen, it offers a safety feeling like few other rivals can. For that we can thank the excellent 4-mode 4WD system (including Lock) that constantly distributes power to the front and rear wheels.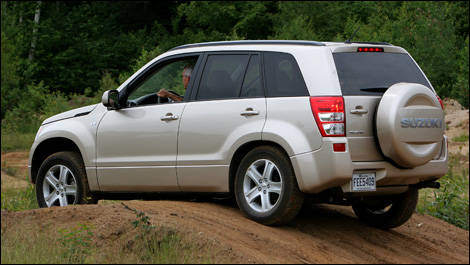 An impressive 4WD system for this type of vehicle.