Discreetly efficient
There are lots of midsize sedans on the market and that's a great thing. Indeed, anyone can find a car that suits his or her needs and most models boast high sales volumes.
While some drivers prefer an attractive, sophisticated machine to make a fashion statement or to be seen at the wheel of something much more expensive than the average Joe's car, others simply want to drive fast and under the radar.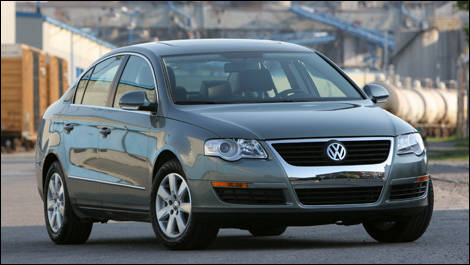 The Passat is a car for those who want to go unnoticed.
The Passat is a logical choice for these people.
Simple and sober
The body of the
Passat
is elegant but not head-turning, especially with that Granite Green color. The overall appearance is modern and the chrome grille that stretches down to the base of the front bumper is very well executed.
From the side, you'll notice the long overhangs, particularly the rear one. Volkswagen's attention to detail can be appreciated in the taillights: the circular turn signals are wrapped inside the braking lights.
Surprising performance
You don't usually expect big things from a mid-size sedan powered by a 2.0L engine, but the turbocharged mill of this Passat delivers the goods. The 200 horsepower and, more importantly, the 207 lb-ft of torque available from 1,800 to 5,000 rpm allow surprisingly quick accelerations. The engine always seems to rev close to its sweet spot. It also reacts docilely and promptly to any throttle input. Sprints from 0 to 100 km/h are completed in about 7.5 seconds.
The optional 6-speed automatic transmission does a nice job despite the tiny delays in execution. It offers a Tiptronic manual mode and a Sport mode in order to provide sharper reflexes.
What's more, the performance of the Passat does not affect its
fuel economy
. Maintaining an average of 10 L or less per 100 km is child's play if you're gentle with the throttle. Too bad this little turbocharged engine requires unleaded premium gasoline.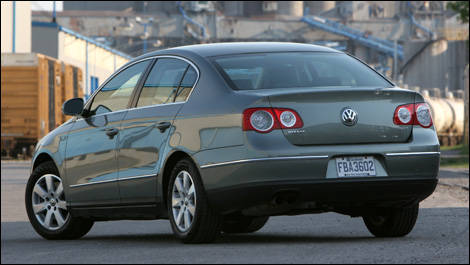 The Passat will surprise many with its lively performance.