If you are itching for a 2-door Audi to replace your aging 20-year old Coupe GT, hold on for one more year. By mid 2007, the R8 will be gracing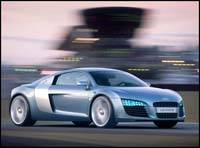 Audi LeMans Concept (Photo: Audi)
dealerships and driveways to the great satisfaction of both enthusiasts and Audi. The R8 was first introduced to the World in 2003 at the Frankfurt Motor Show as the LeMans Concept.
If the arrival of this car is not enough to get you excited, maybe the fact that it will be largely based on the Lamborghini Gallardo will. That's right, a Lamborghini Audi Gallardo R8. The aluminium space frame and the AWD system will be directly transplanted from one car to another.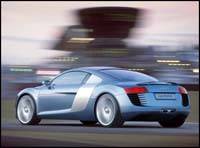 Audi LeMans Concept (Photo: Audi)
To keep the price down and to avoid cannibalizing Gallardo sales, the base engine, which will be mid-mounted, should be the 4.2L V8 from the RS4. Producing at least 420 hp, performance and acceleration should be impressive. There is a strong chance that the Gallardo's 5.0L V10 will also be offered at a later date in a "Super" version of the R8 be it in a detuned state of only 450 hp.
The R8 name is derived from Audi winning R8 LeMans racecar. Pricing is rumoured to start at about $115,000 US.