The modern-day Luigi
Presented to the public for the first time in Turin, on the 4th of July, 1957, the little 500 is celebrating its 50th anniversary in a big way. It's making a comeback, completely redesigned, and it will be launched on the same date as the first one.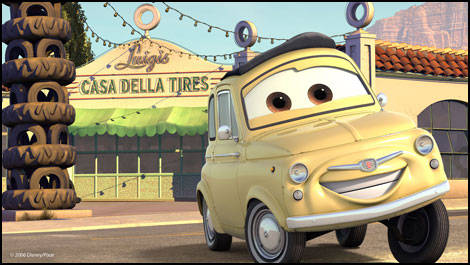 Image : Disney/Pixar
This adorable little urban car is pretty much unknown in North America. However, many people, ah, discovered it in Disney/Pixar's movie 'Cars'. In this entertaining animation flick, a 1959 Fiat 500 named Luigi is part of the cast.
The original 500 had a half-liter (479cc) two-cylinder engine that developed 13 horsepower, which allowed the car to reach a dizzying top speed of 85 km/h. In 1972, it was replaced by the Fiat 126. In 1991, the 126 was replaced by the Cinquecento, which itself was followed by the Seicento in 1998. The original moniker is now back; the Cars movie probably has something to do with it...
The new 500 measures 3,550 mm long, 1,650 wide and 1,490 high. Its wheelbase is 2,300 mm, which is actually 200 mm shorter than the one of the current Smart! It is obviously bigger in every dimension than the 1957 model, which measured 2,790 mm long.
Three four-cylinder engines will be available: a 1.3-liter, 16-valve turbodiesel that produces 75 horsepower; a 1.2-liter, 8-valve gasoline unit that produces 69 horsepower; and finally, a 1.4-liter, 16-valve gasoline engine that produces 100 horses. 5- and 6-speed manual gearboxes will be available. Although the original 500 was rear-engined like the Beetle, the new one will be front-engined.
The modern-day Fiat 500 will be on sale inm Europe right after is official launch. Of course, the Fiat brand is currently not sold in Canada.