I'm not the first auto journalist to write about the
Nissan Armada
since its introduction in 2004. And so, I'm not the first one to criticize its extra-large girth which results in extra-high fuel consumption. As you can guess, this SUV is not an environmentally friendly performer; after all, what else than a big V8 engine could motivate this stately mansion on wheels?
While journalists all seem to champion a greener world, automakers are doing just about whatever they please. Actually, no; consumers are the ones dictating market trends. And if the Americans want big, gas-guzzling vehicles, why not the Japanese?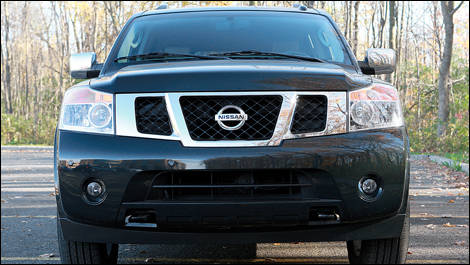 The Armada is at ease dealing with daily chores, remaining comfortable and classy while doing so.
Ultimately, it might have taken the intervention of governments to regulate the market. And consequently, domestic dealers may no longer have the luxury to sell a lot of these behemoths. I'm talking about stronger environmental laws and regulations, such as the ones being enforced in California. Fortunately or not, depending on your point of view, it's becoming more and more of a reality in Canada, especially in provinces like Quebec.
Whatever, those who look for a full-size SUV will definitely want to check out the Armada. Let's be honest: the comfort level is outstanding. Large or tall folks will find all the room they need. And now's perhaps the best time to buy such a vehicle, at least in terms of pricing.
When the Canadian dollar recently skyrocketed to nearly $1.10 US, Nissan quickly let the media and consumers know that the base MSRP of the 2008 Armada was slashed by $8,000. All this with 1.9% financing. Now that's interesting!
With a potent 5.6L V8, three rows of seating for a total of 8 passengers, and a towing capacity of up to 4,082 kilos (9,000 pounds), the Armada is ready to take on any type of challenge. It's powerful enough to tow a boat all the way to the lake, stylish enough to stand out in the parking lot of a famous restaurant and convenient enough to haul the entire family to its preferred locations.
Power for larger-than-life adventures
The 2008 Nissan Armada is the most powerful and capable SUV ever produced by this Japanese manufacturer. Based on the robust Nissan F-Alpha architecture, it features a high-strength steel fully-boxed frame offering superior crash resistance and high durability. Meanwhile, the double-wishbone independent rear suspension has been calibrated to enhance interior room, ride comfort and handling.
The famous 5.6L, 32-valve, DOHC V8 makes the Armada one of the most powerful full-size, light-duty SUVs on the market, including best-in-class towing capacity with the proper equipment. Specially tuned for the Armada, the Endurance V8 churns out 317 horsepower and 385 lb-ft of torque.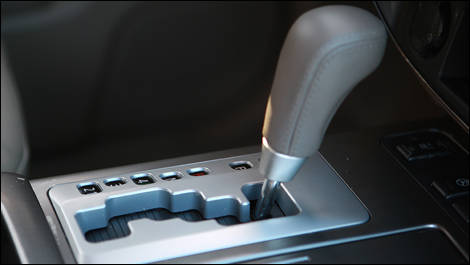 A 5-speed automatic transmission comes standard with the Nissan Armada.