Volvo has done a marvelous job of combining luxury,
safety
and practicality in their V70 wagon, which is completely new for 2008. Let's have a closer look.
Unmistakably Volvo
The
2008 V70
draws much of its styling theme from Volvo's flagship S80 sedan- and that's a delightful starting place. Without straying far from the pleasing lines of the
previous generation V70
, the designers managed to cast a mold that captures the essence of Volvo while adding a subtle dose of sporty aggression to the former wagon's docility.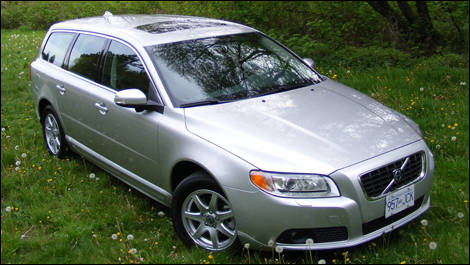 Volvo has done a marvelous job of combining luxury, safety and practicality in their V70 wagon.
Re-penned lines are also found within the V70. Its cabin has been completely reworked, drawing again upon the S80 for inspiration. New seats, dashboard, centre console and instrument panel are the most obvious amendments; and they comprise in my view one of the most attractive interior designs in the segment- not to mention one of the most functional as well.
I find the entire V70 package to be relaxing and mature. Like a fine wine that's been properly stored, this Swede delivers a visual bouquet that balances robust and lively with smooth and mellow, the latter of which was denoted by richly-hued wood inlays adding elegance to my tester's plush environs.
A new V70 deserves a new engine
Further setting the new apart from the old is a DOHC, 24-valve inline six-cylinder powerplant; it replaces a series of smaller five-cylinder arrangements that drove earlier V70s. The new mill, which employs Continuously Variable Valve Timing (CVVT), displaces 3.2-litres while generating 235 horsepower @ 6,400 rpm and 236 pound-feet of torque @ 3,200 rpm.
The aforementioned engine is the only V70 power source available for 2008. It's fused to a six-speed automatic transmission featuring Volvo's Geartronic manual-mode shift capability. This pair operates together in a well-coordinated pleasing fashion, leaving little to beg discontent.
There's plenty of low-end power produced by the V70's smooth revving mill rendering off-the-line launches athletic but not inspiring. The same holds true on the highway. This vehicle doesn't crave more juice; it's amply capable but in an understated manner.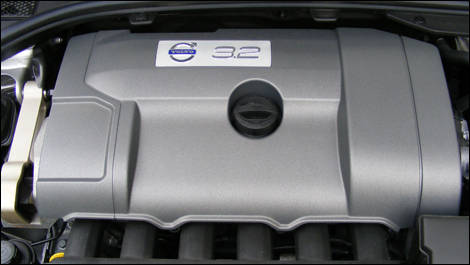 The new mill displaces 3.2-litres while generating 235 horsepower.