Miami, Florida -
The massive shape of the Honda Element bothers you? The angular looks of the Scion xB repulse you? The fancy personality of the
Kia Soul
lights a fire inside you? Whether you like them or not, these boxes on wheels have managed to get everyone talking. In fact, their strikingly bold, contemporarily boxy styling has put the last nail in the coffin of retro vehicles. That's right: PT Cruisers and HHRs are yesterday's news!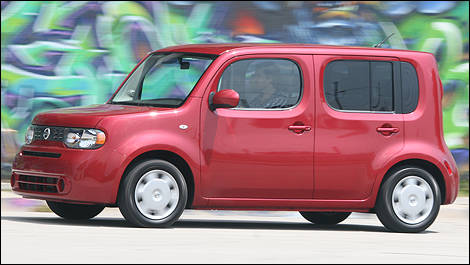 Nissan heavily banks on the eccentric styling of the 2009 cube to attract buyers.
But if you think you've seen it all, wait till you catch a glimpse of the latest and fourth entry in this burgeoning market segment. This one is from Nissan and it couldn't be more aptly named -- cube! I know, it's pretty basic, especially with no capital "C". The automaker wanted it this way, though. Is it because the cube is a generic product? Well, most likely not.
To avoid any confusion with other boxes on wheels, the people at Nissan Canada prefer to liken their newest member to the
Toyota Matrix
,
Pontiac Vibe
,
Honda Fit
and, of course, the Kia Soul.
"For drivers age 7 to 77!"
This gives you a pretty good idea of the type of buyers targeted by Nissan. The company's marketing experts are convinced that the cube will appeal to both the young and young at heart, much like the Versa.
Every cube owner will have at least one thing in common: they will choose the cube because they want to, not because they have to. "The distinctive exterior, comprehensive equipment and multiple aftermarket accessories will make it a highly-desirable commodity," says Ian Forsyth, Director, Product and Corporate Planning at Nissan Canada.
Some of these buyers crave everything cube-related ever since the second generation was released in Japan in 2002. For the most part, this car paved the way for the model that will soon leave Canadian pedestrians wide-eyed.
Shino Nakamura, Senior Vice President in charge of design at Nissan Motors, explained that "the cube could be seen as the perfect example of a contemporary interpretation of those tension-releasing 'slow cars' from Japan." That says a lot about the state of mind of Tokyoans jammed in rush-hour traffic...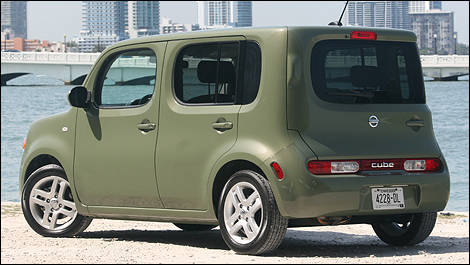 The asymmetrical design of the rear hatch is unique.