Design
You may not be familiar with Saab, the car company, and the reason for that is that the company tends to make quirky cars that aren't easily pigeonholed in mainstream buyers' minds. They are in effect "that other Swedish car maker" which at one time was more famous for their Viggen attack fighters than their cars.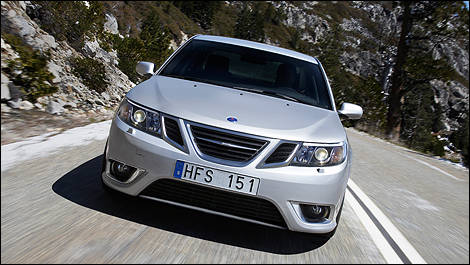 Saab has hit on the right combination of quirky, comfortable and quick.
Over the past few years, the cars have become a bit more mainstream. Designers have kept the distinctive front grille, but have shaped the rest of the car to look like a normal mid-sized four-door sedan. The glass area is large and the roofline comes down to the trunk and flattens out, revealing a fairly large trunk space. Taillights are large and easy to see, even with a load of Saskatchewan grime on them.
Getting in and out is easy, thanks to generously cut and shaped doors. All seating positions can get accessed fairly easily. Back-seat occupants may find space a bit tight, because in my normal sit-behind-myself test, I was. My problem was the sunroof chewed up that inch or so of space that I needed to sit up comfortably. Because I had to slouch, I used up all my knee room and then some. I wasn't uncomfortable, just tight on space.
Interior
Up front, the power 8-way driver's seat went low enough that headroom wasn't an issue, nor was driving space. My wife was a bit peeved when she found that the passenger seat didn't have the same power controls as the driver. She figured that for the price ($54,255 as tested) it should have full power seats on both sides.
Firmly ensconced in the driver's seat with everything adjusted, it is now time to find out that Saab puts the ignition key in the space between the buckets on the floor. They always have and always will. I lost track of the times I went to put the key in the steering column and I know where the ignition is!
The other major difference, and you may never need to use this feature ,is that there is a button on the dash that shuts off all the gauges and lights except the speedometer. At night this is a bit eerie and takes getting used to, but it does remove all distractions from the dash.
Ventilation in the car is very similar to what it should be in every airplane, even-temperatured and fresh. Large dash openings and in floor vents help move air through out the cabin and keep the windows clear without always having to go to the defrost setting.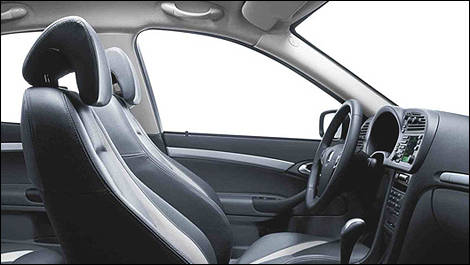 Up front, the power 8-way driver's seat went low enough that headroom wasn't an issue, nor was driving space.