Bal Harbour, Florida -
A lot of rich and famous people own a pied-à-terre in Florida --that's a fact. Forbes magazine actually counted over 20 Floridians among the richest men and women in the world. Therefore, it's no surprise that BMW chose an upscale suburb of the Miami area to introduce international auto journalists to the all-new
2010 BMW X6 ActiveHybrid
, a.k.a. the most powerful production hybrid SUV in the world.
The BMW X6 ActiveHybrid stands out with a bulging hood a.k.a powerdome.
This green monster is the first of a highly-anticipated series of advanced gasoline-electric hybrids, which includes the Porsche Cayenne, Mercedes-Benz M-Class and Audi Q7. The Munich-based automaker was the fastest to reach the finish line.
Want to make a statement?
Consider the X6 ActiveHybrid as a socially-acceptable way of making a powerful vehicle even more powerful. After all, this so-called 4-door "Sports Activity Coupe" is able to run solely on electricity when it's not rocketing from 0 to 100 km/h in 5.6 seconds -- as fast as the gasoline-powered X6 xDrive50i!
Incidentally, the hybrid powertrain combines the 400-horsepower twin-turbo V8 of the latter with a pair of electric motors. Total output amounts to 480 horsepower along with a ridiculous 575 pounds-feet of torque. The technology at work here was developed in partnership with Daimler, Chrysler and General Motors.
But the Bavarian company doesn't just brag about this formidable power increase. It also promises greater
fuel economy
(9.9 L/100 km on average according to Euro5 standards) and 20-percent lower emissions. Not bad for a mastodon that weighs over two tons!
Two electric motors
Mated to the same Mercedes-sourced 7-speed automatic transmission as the regular X6, the powertrain of the BMW X6 ActiveHybrid uses two electric motors. The first one gets the vehicle moving at low driving speeds thanks to a dynamic power delivery, while the second steps in at higher speeds to provide additional power.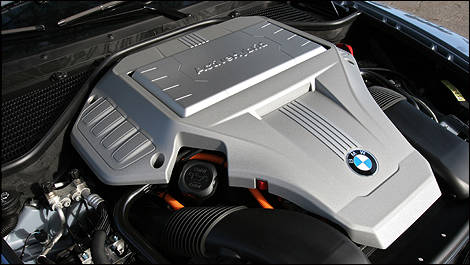 The North American variant of this advanced hybrid system generates 480 horsepower.