Stand next to the impressively cut
2010 Taurus SHO
and you're sure to wonder whether insole lifts would be a good idea. This vehicle is tall yet remarkably sleek, not to mention blisteringly fast for something wearing a Taurus moniker.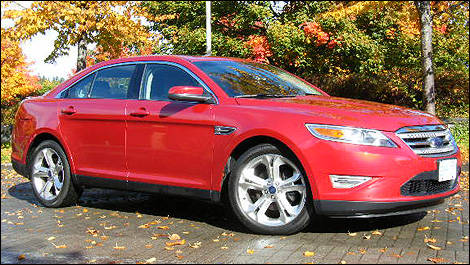 The latest Taurus SHO delivers plenty of handling verve; in fact more than most drivers will ever hope to exploit.
SHO is back baby, and it's beautiful
Yes, the
Taurus
is back but this time with far more horsepower, all-wheel-drive (AWD) traction and a stunning body and cabin design.
The Yamaha-sourced engines of past have been replaced by Ford's latest technological breakthrough in pony power- the 365 horsepower EcoBoost 3.5-litre V6.
The new powerplant utilizes twin turbochargers and direct fuel injection to generate 350 pound-feet of arresting torque across a broad, linear band that stretches uninterrupted from 1,500 to 5,000 rpm.
The
EcoBoost
brawn is managed by a 6-speed automatic transmission featuring SelectShift paddle activation prior to its dispersal to four 20-inch 5-spoke wheels shod in P245/45R20 V-rated performance rubber.
Ford's byline for the EcoBoost brute makes claim that it supplies the performance of a V8 engine while returning the economy of a V6 engine.
I can certainly attest to the V8-like potency of this hearty mill, and I'm satisfied that it's rate of fuel-burn is less than that of a typical V8 with equivalent output numbers.
Is the claim of V6 economy well founded? That's a debate best saved for a rainy day; today is all about driving Ford's 'big boy' sport sedan.
Behind the wheel
Having once owned a Taurus wagon, I have had plenty of experience with Ford's former best selling milquetoast sedan but I've never experienced a Taurus like the red missile that sits out front today.
The driving experience begins as one approaches the new Taurus; it's unusually high waisted, which becomes evident when it's parked amidst sedans of more typical proportion, or when you stand next to it questioning your vertical reach.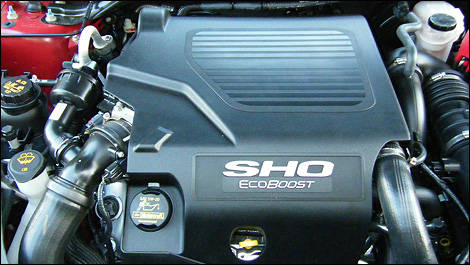 The 365 horsepower EcoBoost 3.5-litre V6.