As reported by Porsche
ATLANTA
-- Porsche will introduce the next-generation
Cayenne
sport utility vehicle, including a hybrid gas-electric version, to the North American market on March 31during a press conference at the New York International Automobile Show.
Led by a highly advanced hybrid model, the new Porsche Cayenne sport-utility vehicle delivers improved performance while using less fuel and producing fewer emissions throughout the entire model lineup.
The North American Cayenne model range will include four models: the 2011 Cayenne, Cayenne S, Cayenne Turbo and the Cayenne S Hybrid. The S and Turbo models go on sale in July, with the Cayenne and Cayenne S Hybrid in dealer showrooms this fall.
All the new Cayenne models embody the Porsche Intelligent Performance philosophy, the evolution of vehicles sportier than their predecessors, yet more fuel and emissions efficient.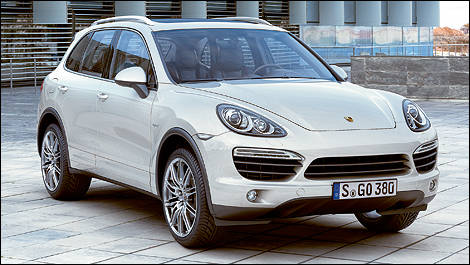 Photo Porsche
Porsche Intelligent Performance philosophy is more than a slogan. It is nothing less than Porsche keeping pace with the modern automotive landscape by dramatically lowering emissions, becoming greener and saving fuel, explained Detlev von Platen, Porsche Cars North America President and CEO. We will we accomplish this through technology and innovative ideas, just as we have throughout our history, and show that Porsches high performance and efficiency are not contradictory terms.
Cayennes dynamic new design offers less weight and more room The Cayennes new exterior leaves no doubt it is part of the Porsche family. Its sporting character is evident from all angles, and its Porsche shape and highlights are more distinct than before. From a dimensions standpoint, it is 1.9 inches longer than its predecessor, and its wheelbase adds 1.6 inches, ensuring extra interior space and greater versatility. Still, despite its larger exterior, this nextgeneration
Cayenne looks even more compact and dynamic. Thanks to a special combination of materials as well as changes in the overall vehicle concept, such as a new all-wheel drive system, weight has been reduced on all models. Despite a higher standard of safety features, the Cayenne S, for example, is almost 400 lbs lighter, which not only improves
fuel consumption
and lowers emissions, but also boosts performance, agility, and handling.
The advanced Cayenne S Hybrid
The high-tech Cayenne S Hybrid that is debuting at the New York show next week features a highly sophisticated parallel full hybrid system. With a combined power output of 380 horsepower from the supercharged V6 combustion engine and an electric motor, the Cayenne S Hybrid combines the performance of a V8 with the economy of a V6.
Through continuous interaction between the 3.0-liter supercharged V6 and electric motor, the Cayenne S Hybrid focuses on maximum efficiency. Depending on driving conditions, either drive unit can operate independently or together. The 47-horsepower (34 kW) electric motor is the ideal partner for the 333-horsepower engine, which produces high torque at low engine speeds. With peak torque at 428 lb-ft at just 1,000 rpm, the Cayenne S Hybrids performance is on par with a V8- powered Cayenne S.
A new standard for Sport Utility Vehicles
All new-generation Cayenne SUVs set high standards for efficiency and performance. Compared with the former models, fuel consumption is down by up to 23 percent in the New European Driving Cycle and CO2 emissions are reduced. Actual EPA-certified fuel economy figures will be available when the cars go on sale in North America in July.
A new eight-speed Tiptronic S automatic transmission with a wide range of gear ratios and the Automatic Start Stop function (first introduced on the Panamera) contribute to these improvements. So does efficient thermal management of the engine and transmission cooling circuits, on-board electrical network recuperation, variable deceleration fuel cut-off and the Cayennes intelligent lightweight construction.
The entry-level Cayenne with its 300-horsepower 3.6-liter V6 engine and mated to the new eightspeed Tiptronic S automatic transmission consumes 20 percent less fuel than its predecessor.