A fun part about our job is to have to opportunity to drive a wide range of different cars and trucks, obviously for comparison purposes. Driving a
Range Rover
one week and a
Toyota Yaris
the next keeps us down to earth, and makes us realize that quality cars can be found at a reasonable price.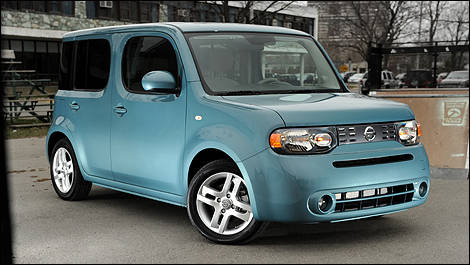 Driving around in a cube is amusing, not because it's a blast to drive, but because it's different. (Photo: Matthieu Lambert/Auto123.com)
Every once in a while, though, I get to spend a week in a vehicle that challenges my virility, like a
New Beetle Convertible
or a
Warriors in Pink Mustang
. This time around, my masculinity is taking a hit aboard a Nissan cube.
If it was black or grey, it wouldn't be as much of a problem, but our seasick-blue cube sticks out like Tiger Woods texting on his cell phone. Every time I'm waiting at a traffic light or in a jam, occupants of surrounding vehicles look, smile, laugh and point a finger. I'm pretty sure they're NOT saying "hey look at that manly dude in the square car; he looks pretty virile."
Whatever. Bottom line is that driving around in a cube is amusing, not because it's a blast to drive, but because it's different. The windshield seems so far away that you feel as though you're driving from the back seat. There is so much headroom that you could wear just about any of Elton John's hats. And every styling element seems to have been thought out in detail, like the wave effect around the ceiling light or the groovy seat fabric.
And despite the appearances, outward visibility is quite good. For those who are always nervous backing up, Nissan has replaced the rear park assist with a rear view camera, although the unit itself is stuck on the back of the vehicle and really looks like an afterthought, because it is, after all, an afterthought.
Our cube is also equipped with an optional Rockford Fosgate stereo with a hatch-mounted subwoofer and a USB port, which sounds pretty good. MP3 file playback and Bluetooth wireless connectivity are also standard on every model, which is nice.
The Bluetooth wireless connectivity are also standard on every model, which is nice. (Photo: Matthieu Lambert/Auto123.com)