Quebec City
— The 29th
Quebec Auto Show
wrapped up on Sunday with record-breaking attendance numbers. With 59,013 visitors on hand (+11 percent over last year), the people at the Corporation des concessionnaires de la régionale de Québec (CCARQ), who serve as the event's organizers, couldn't be more ecstatic. The same obviously holds true for the host manufacturer, Hyundai Auto Canada.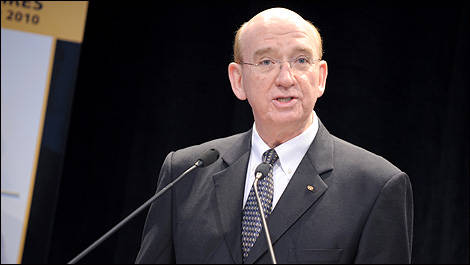 According to Steve Kelleher, President and CEO of Hyundai Auto Canada, the "Fluidic Sculpture" design (as seen on the new Sonata and Tucson) will largely contribute to their move up the desirability scale. Hyundai vehicles will no longer be just about "good value"; they will be perceived first as attractive, sophisticated products. (Photo: Matthieu Lambert/Auto123.com)
While presiding over the whole show, Hyundai enjoyed the most visibility of all companies on display, taking center stage at Centre des foires. Its top local executive also acted as honorary president and addressed the media during the inauguration ceremony.
Is that what you call "icing on the cake", Mr. Kelleher (as in Steve Kelleher, President and CEO of Hyundai Auto Canada)? After all, the brand reached unprecedented and unexpected levels of success in 2009, climbing as high as 6th place in Canada and 3rd place in Quebec. More than 103,000 Hyundai vehicles were sold across the country last year, a 40-percent improvement over 2008.
Building the desire to own a Hyundai
The opportunity was too great not to seize. Hyundai just released two all-new models, including the Tucson compact SUV and the Sonata midsize sedan, which compete in the second and third largest market segments in Canada, respectively. They're also the first two models to feature the brand's new "Fluidic Sculpture" design language.
"Consumers have long associated our products with good value," explains Kelleher. "Now, we want to step up to the next level and make the Hyundai brand desirable for its ability to meet all the expectations of customers. Of course, styling plays a huge role."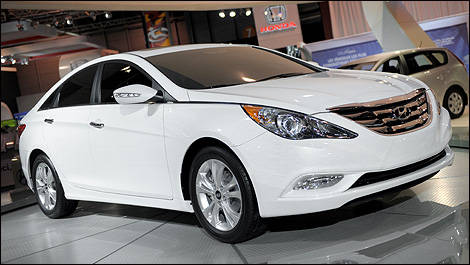 Midsize sedans like the Hyundai Sonata represent the third largest market segment in Canada. This particular model is highly responsible for the Korean brand's success over here. (Photo: Matthieu Lambert/Auto123.com)