In today's world, the 21st Century that is, pigeon-holing yourself is a bad idea. There are and will always be a need for specialists such as cardiologists and international merger lawyers, but in the car business, a product cannot simply do one thing, even if it does it better than anyone else.
The Ram (not Dodge anymore, remember) 1500's closest rival is the Ford F-150. (Photo: Matthieu Lambert/Auto123.com)
Take pickup trucks. Crude, rude and single-minded, they have been choice work horses for decades amongst farmers, contractors and fifth-wheelers. Where they often fell short, understandably, was in the passenger accommodations department. With all energies generally reserved for payload, towing capacity, power and torque, pickups were but rarely considered a daily family vehicle. No more.
The pickup segment is perhaps the most hotly-contested in North America. I say this because a Ford guy (or gal in each case) would never buy a Dodge 'cause of its weak front end, a Chevy guy would never be caught dead in a Ford 'cause of its wussy V8s, and a Dodge guy could not imagine living without a Cummins diesel engine under his hood. Toyota makes a pickup? What? Although these debates will probably rage on for eons to come, all these heavy-hitters have never been so alike.
A luxuriously appointed cabin?
That's right folks, luxury, fit and finish, craftsmanship, attention to detail, no I'm not talking about an Audi or an Infiniti, I'm going on about a Ram. Once you manage climbing into the 1500, you'll be pleasantly surprised to find quality leather, plastics and even some stitching in areas you would never have imagined in this type of vehicle. Dash layout is logical, controls are within reach in most cases, at least for the important ones, and everything comes together with a sense of style that would befit an import luxury-brand car 15 years ago. I'm not kidding. Look through the photo gallery.
Not only are the seats, in both rows, large and comfortable, but the cabin is immensely spacious; your 3 kids of varying ages will have no reason to complain about one touching the other or stealing valuable elbow room from another. As well, storage space is bountiful and the lodgings actually remain impressively quiet on the road. At least until you rip open the HEMI...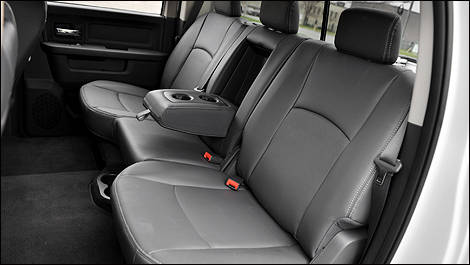 Not only are the seats, in both rows, large and comfortable, but the cabin is immensely spacious. (Photo: Matthieu Lambert/Auto123.com)