Are you a smart car virgin? Are you small-car curious? Here are 22 things you need to know about the
2010 smart fortwo Edition Highstyle

1)
The fortwo is tiny, not very powerful, tiny, sort of silly looking, and really, really tiny. In fact, it's so small that it doesn't even capitalize its name.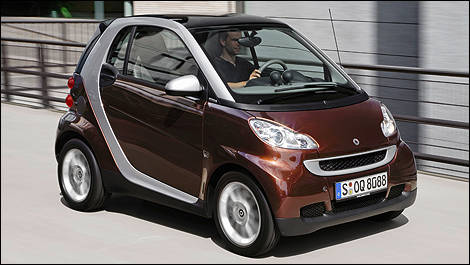 The fortwo is slightly longer than a Chevrolet pickup truck is wide. (Photo: Mercedes-Benz)

2)
For two of average size, the fortwo is surprisingly roomy inside. Most won't find issues with leg, shoulder or knee room. The glass roof adds a sense of extra space, which is important in a vehicle that fits within the average adult's arm-span.
3)
The fortwo is slightly longer than a
Chevrolet pickup truck
is wide.
4)
There's room on board for all the smaller items you may be planning to bring on a trip. Door nets, 2 cupholders and some bins around the instrument-cluster hold at-hand items. Additionally, the small trunk is surrounded by storage cubbies, a net, and a closable tray for papers or folders.
5)
The new fortwo Edition Highstyle includes heated leather-trimmed seats, power accessories, a punchy CD-changer audio system and unique paint, badges and rims. Fog-lamps were fitted too. It's a great way to travel in upscale, 'smart' style. No cruise control or arm-rest, though.
6)
Dodging potholes is a must. The fortwo rides very roughly on nasty roads, and hitting big bumps or potholes can coax questionable-sounding noises from the suspension. On poorly-maintained roads, the ride can be downright jarring. Sitting atop the rear axle doesn't help, either.
7)
The fortwo can cruise at 130km/h or more, and the up-level stereo system is an ideal travel companion. Headlights and high-beams are more than adequate for nighttime highway driving at speed, too.
8)
The fortwo has no back seat whatsoever.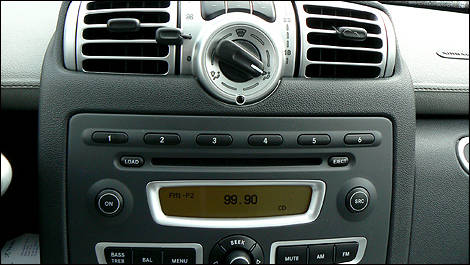 The fortwo can cruise at 130km/h or more, and the up-level stereo system is an ideal travel companion. (Photo: Justin Pritchard/Auto123.com)