My wife and I have been together for just about 11 years. My career in the automotive journalist business began almost exactly 11 years ago as well. Because of this, I know that my wife is not with me for my weekly shiny new wheels. Also, said wife cares nothing about cars and essentially couldn't care less that I'm testing a $15,000 Kia or a $150,000 Audi. She has had the opportunity to drive a large number of my press vehicles, more often than not, out of pure necessity, not curiosity.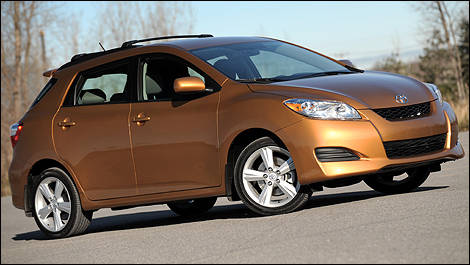 The tested Matrix XR AWD was very sprightly.
She has always preferred driving mid-size to larger cars, so the few positive comments she uttered over the years were for the Acura RL,
Volvo XC70
and
S80
, Lexus GS and Infiniti EX35. Given this, we sprang for a four year-old XC70 in the fall of 2008. If you follow my tweets (
@Matt_St_Pierre
), you'll know that I had the Volvo rustproofed the week I drove the Matrix; while I was at the garage, my wife took the Toyota to work.
Highs and lows
Against all odds, my better half thoroughly enjoyed the Matrix; she liked the styling, the interior and most of all, the car's zippyness. Her only misgiving concerned the front seats, having lower cushions that are too short. Quite honestly, I was so surprised to hear her positively glowing comments about the Matrix that I had to rethink everything about the compact CUV/mini-wagon.
The vehicle's exterior design has been a source of negative comments from the onset. I first drove the car two years ago in Windsor, and I can clearly recall many auto critics giving the car's lines the thumbs-down. I myself was far from being enamoured. Somehow, my wife's glowing report made me reconsider my position.
As for the cabin, I too immediately noticed the seat's shortcomings; a typical Toyota trait. Next on my list of negatives are the cheap hard plastics that adorn much of the passenger quarters and the less than enticing shape of some of the gauge pods. Thankfully, the simple control layout makes up for the previous complaints.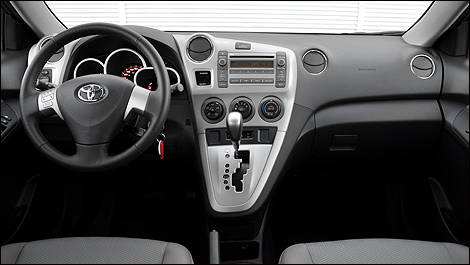 The control layout is simple.