The 2010 Vancouver International Auto Show opened its doors at BC Place Stadium in Vancouver BC on March 30th this year. Housed beneath the stadium's ageing fabric roof was a massive collection of new cars from manufacturers around the world along with a display of supercars, motorcycles and classic cars.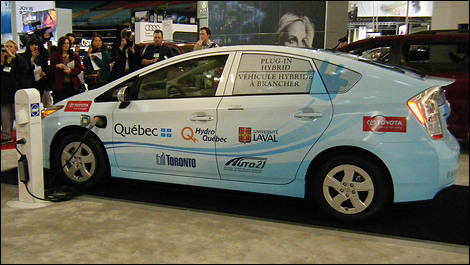 Prius "plug and play" (Photo: Rob Rothwell/Auto123.com)
With 90-years of auto show experience backing it, this year's show offers the ability to see, smell and touch the cars of our dreams. The selection of rides comprising this year's display range from inexpensive compacts to the $567,955 Rolls Royce Drophead Coupe.
The vast gulf between these contra bookends leaves plenty of tarmac to park specimens from just about every other automotive segment for 2010 and beyond. Take for example BMW's latest 5-Series Sedan and their
X5
Sports Activity Vehicle.
Both of these revitalized Europeans from Canada's number-one selling premium brand are available with BMW's latest diesel technology paired to 8-speed automatic transmissions. Look for the availability of Night Vision and Active Cruise Control with stop-and-go technology on these models.
If ultra
fuel economy
heads your list of automotive priorities, be sure to stop by the Toyota site and wrap your mind around the first mass-produced plug-in hybrid to reach market. The Prius "plug and play" will supply up to 20km of electrically-powered driving before transitioning to conventional hybrid operation prior to its next plug-in recharge.
Audi proves that fuel conservation comes in all forms, including the sensational all-new A8. This flagship sedan may strongly resemble its predecessor but every inch is new or revised, and in the process fuel economy has been increased by 15%. The enhanced frugality is largely attributable to a new 8-speed Tiptronic transmission.
Of course, if a 15% reduction in fuel expenses still doesn't open the door to one of Germany's automotive gems, the Japanese may have the perfect answer to inexpensive "zoom zoom" motoring. New to Canadian roads, the spirited
Mazda2
blends sportiness with economy while not sacrificing room for passengers.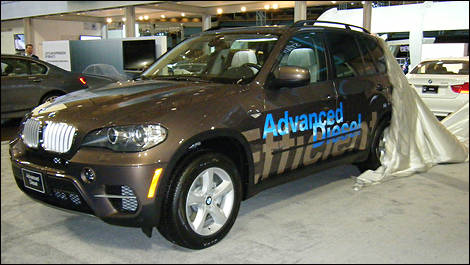 BMW X5 (Photo: Rob Rothwell/Auto123.com)