Whether talking
Ford
,
RAM
or GM, the big three have made huge progress in their heavy-duty truck lines over the last decade. One of the most recent makeovers is found in the Chevrolet barn. This week, I explore the reworked 2011 Sierra HD2500 diesel, and it's quite a beast.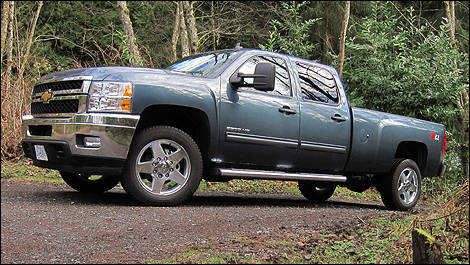 GM is presently offering a cash credit of $6,000 and a custom cash credit of $1,000 on its Sierra 2500HD, which would bring my tester's MSRP down to $62K and change. (Photo: Rob Rothwell/Auto123.com)
Big and bigger
My tester was of course the crew-cab model fitted with the 2,400mm (8'0") box rather than the standard 1,950mm (6'6") cargo hold, giving the vehicle an overall length of 6,581mm (259.1in), or roughly 21.5-feet. I think that's equivalent to a Canadian football field.
Along with the Silverado's capacity to haul a small mountain in its large box, its spacious cab supplies seating for six occupants. I guess that's what's considered a "crew" in the truck world. With its eclipse-inducing length, the big Chevy sits its occupants high above car traffic, offering outstanding visibility to driver and passengers alike; but visibility is just one attribute of this workhorse.
Diesel engine revs supreme
There's no substitute for torque when dealing with heavy loads, and there's no better producer of torque in the field of internal combustion engines than a turbocharged diesel powerplant. Lately, the big three have been in a power struggle of sorts, and the struggle has generated torque – massive quantities of it.
Ford has just eclipsed GM's latest chart-topper by extracting a reality altering 800 pound-feet of torque from the newest iteration of their massive 6.7-litre Power Stroke diesel mill. Although the figures for GM's brute may not quite match those of the Power Stroke, they are very close and indeed equally impressive.
My tester was equipped with GM's competitor to Ford's Power Stroke diesel, the 6.6-litre Duramax turbo-diesel V8, which is rated at 397 horsepower @ 3,000 rpm and 765 pound-feet of torque @ 1,600 rpm. That's only three horsepower and 35 pound-feet of torque below the Power Stroke.
The Duramax engine and accompanying Allison transmission will add $11K or so to the price of the Sierra 2500HD over that of the gas-powered version. Despite the expense, when you've got to pull, you need torque, and it doesn't come cheaply. You also need a rugged transmission.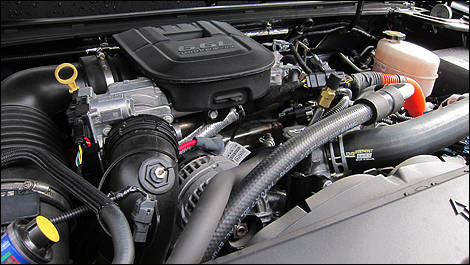 My tester was powered by the 6.6-litre Duramax turbo-diesel V8, which is rated at 397 horsepower @ 3,000 rpm and 765 pound-feet of torque @ 1,600 rpm. (Photo: Rob Rothwell/Auto123.com)