I commend car manufacturers who take a risk. From outlandish designs to entering new markets, companies that take a risk (and stand behind it) should be recognized. Of course, not every risk is a success (Amphicar anyone?), but for the most part, going out on a limb in the automotive world gets you noticed and gets you sales.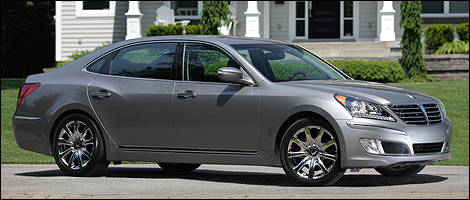 The amenities of the Equus abound, and they are of good quality and well placed. (Photo: Sébastien D'Amour/Auto123.com)
So, what happens if a company takes a risk and hopes that no one really notices that it was them that did it? Does it warrant the same kind of respect and kudos? And so enters my dilemma with the Hyundai Equus Signature sedan.
First off, what is it? Well, the Equus is Hyundai's entry into the large luxury car segment. They're taking on the big boys with this one (think Merc, BMW, Lexus), and they've introduced a serious player. With a price that's a good $20k cheaper than their stated competition, with all the amenities to match, the Equus truly is a fantastic edition to Hyundai's family. If only they'd truly embraced it as such.
It's clear from the moment you see the Equus that it's a luxury saloon-type car. Long and elegant, the Equus sits regally on 19" 9-spoke, chrome alloy wheels—a bit flashy for my taste, but eye-catching enough to garner the right amount of attention on the road. The overall look of the car is one of sophistication and class, which fits the bill perfectly for the class of cars it wants to fit in with;
Lexus LS460
and
BMW 7-Series
.
With a front facade reminiscent of Mercedes-Benz and a rear that makes one think of a Lexus almost immediately, it's hard not to think that Hyundai simply lifted the best bits from all the best cars and smashed them together on the Equus. And that's not necessarily a bad thing. Isn't imitation the sincerest form of flattery? So, Hyundai has effectively tipped their hat to every other automaker out there whose bits and pieces they pulled together to create the extravagant interior and exterior of the Equus.
So, what bits have they thrown together? Well, for starters, the Hyundai Equus holds a lightweight aluminum-alloy 4.6L V8 under its elegant hood that's good for 385 hp and 333 lb-ft of torque. But this sedan is more about the gentle cruise than it is the start off the line. Even though it sports rear-wheel drive (a classically sporty touch), the Equus is long, heavy and doesn't corner that well.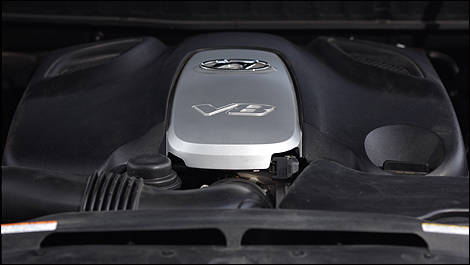 The Hyundai Equus holds a lightweight aluminum-alloy 4.6L V8 under its elegant hood that's good for 385 hp and 333 lb-ft of torque. (Photo: Sébastien D'Amour/Auto123.com)