I'm being asked the same question over and over this week: "Hey, what's the white car you're driving?" And when I answer that it's Kia's new Optima mid-size sedan, a couple have responded: "Wow, it's really beautiful. Too bad it's a Kia". What?
I ask them why they dismiss the new Optima so quickly, and one person notably said "Well, you know, Kia doesn't make reliable cars; my uncle had a Sephia a few years ago and it was a total piece of doggie-doo".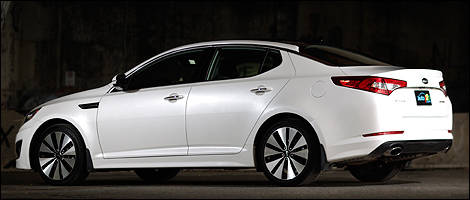 The stunning bodywork strikes a balance between elegance and sportiness. (Photo: Sébastien D'Amour/Auto123.com)
It seems as though Kia still has a ways to go to change the public's perception of the quality of their cars.
Come on. The Optima isn't the first vehicle that represents the Korean company's turnaround; the
Forte
, the Rondo, the new
Sportage
and the new
Sorento
have all impressed us with their quality, drive and bang for the buck. This new Optima, though, might just be Kia's ticket for reaching the big leagues.
The stunning bodywork strikes a balance between elegance and sportiness, and should please both the younger and older crowds shopping for a mid-size sedan. The elegant Hyundai Sonata might please older buyers but not the younger ones, while the Suzuki Kizashi's sexy shape might lure people my age, but is too daring for baby boomers. The Optima positions itself comfortably between the two.
And spiffed out in SX trim with its flat-faced 18-inch alloys, sportier grille, xenon headlights, LED taillamps, lower-body aero add-ons and subtle trunklid spoiler, this particular Optima draws an extra dose of attention everywhere we go with it.
The good impression lives on as you sit down in the cabin and notice the stitched leatherette trim on the instrument panel, the quality feel of the switchgear and the tasteful layout.
Kia didn't skimp on equipment either, as the SX includes an intelligent key system, a trip computer with colour LCD screen, a 530-watt Infinity sound system with USB port, a navigation system, Bluetooth connectivity, cooled front seats, sporty cloth and leather upholstery, heated rear seats, rearview camera, panoramic sunroof, and the list goes on.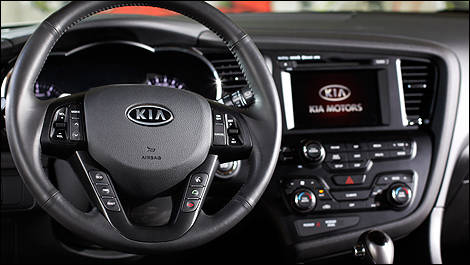 Inside, we notice the stitched leatherette trim on the instrument panel, the quality feel of the switchgear and the tasteful layout. (Photo: Sébastien D'Amour/Auto123.com)