Driving a luxury hybrid seems to be a contradiction in terms, but if you stop and think about it, luxury cars can benefit from being a hybrid just as much, if not more than a small car. We already know that adding an electric motor to a fuel efficient engine results in a considerable improvement in
fuel economy
(and thus a reduced carbon footprint). The 450h carries that theme forward, in comfort.
Styling
Lexus
also wrapped this hybrid in a very stylish body package. In a bling moment, the lower chrome molding on the side of the body has a chrome 450h insert on the front fender that is set into a blue background. In certain lights and from certain angles, it will appear luminescent. Other than that, the Lexus grille and emblems are the only other shiny things on the front and rear of the car. Alloy wheels round out the package and in an unusual move, the double spoke design has every second spoke chromed while the others are a regular alloy colour. It is this attention to detail that makes the whole package stand out.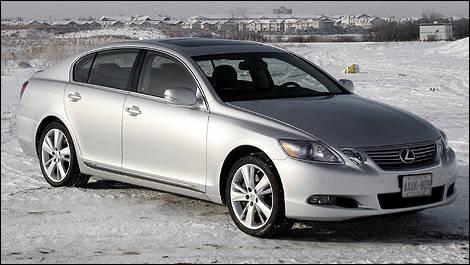 Lexus wrapped this hybrid in a very stylish body package. (Photo: Charles Renny/Auto123.com)
Starting
Once firmly ensconced in the driver's seat with all adjustments, including, the steering and exterior mirrors, you are ready to commit the settings to the vehicle's memory. Now make sure your foot is firmly on the brake, the gear selector in park and you are ready to push the start button. Once done, the gauges come alive and you don't hear a thing. Then a few seconds later, the computer has decided that -20 is too cold for the electric motor to work and that you might want some heat inside so it starts the gas engine.
Warm Up
During warm up, you can take note of the fact that the GS 450h doesn't have a tachometer. In its place is a kW gauge that measures power consumption not rpm. Beside it is a regular speedometer and the instruments are rounded out by a fuel level indicator and an engine temperature gauge. There is also an information display that can show you anything from when your next oil change should be to your current fuel consumption along with what it has been for the past half hour or so.
Interior comfort
The other thing you are going to notice at -20 is that the leather face seats are cold and stay that way a lot longer than you expect. I found the heated and cooled seats took a long time to warm up. In fact this was my single largest complaint about the GS 450h. On the positive side of this, my wife disliked it enough that I often got sent out to shop----alone!!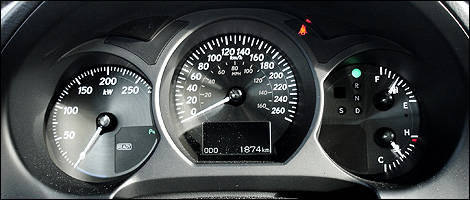 The tachometer is replaced by a kW gauge that measures power consumption not rpm. (Photo: Charles Renny/Auto123.com)