Webster's Dictionary defines "Scion" as a "descendant (of a notable family), a son or a daughter. It seems a strangely traditionalist moniker for a brand aimed directly at a young and hip demographic, but given that Scion is a new branch off the patriarchal giant Toyota, perhaps it's fitting.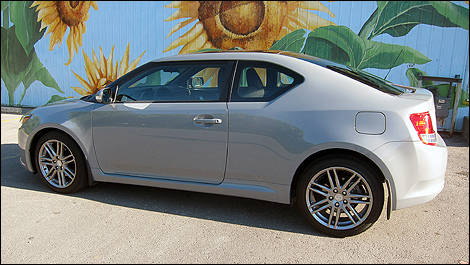 Appearance-wise, the tC has all the inherent design cues of a coupe, although it's technically a hatchback. (Photo: Lesley Wimbush/Auto123.com)
Developed solely to attract twenty-something buyers into the fold, Scion's using non-traditional marketing methods such as test-drive events, social media and small venue concerts while offering a score of accessories for owners to personalize their rides. Funny that Toyota - once known for the potent Supra and MR2, has become so stuffily middle class that it's had to strategically lure young buyers back.
Although Scion has been available in the States since 2003, it wasn't launched in Canada until 2010, partially due to the loosening up of bumper restrictions, allowing US-spec models to be imported in Canada without expensive re-engineering. Canadians have a fondness for fuel-efficient small vehicles, and with our gas prices soaring to astronomic heights, the timing is right for Scion to do well in our market.
Given the Scion brand's appeal to the tuner crowd, I expected I'd feel a bit ludicrous behind the wheel of the
Scion tC
– a car clearly meant for a young, ricer-type guy.
What I didn't expect was that I'd be impressed by the Scion tC's suitability as a decent daily driver.
Appearance-wise, the tC has all the inherent design cues of a coupe, although it's technically a hatchback. There are no curves to be found here: the tC is a study in straight lines and sharp angles.
My tester has defined creases, blacked-out A-pillars, kinky C-pillars reminiscent of the not-so-sporty Dodge Avenger and an aggressively gaping maw of a grille. It's attractive enough, if you overlook the putty-grey "deck paint" colour scheme. The split-spoke 18" wheels, however, notch up the sportiness with the upscale look of an autobahn-bred coupe.
Surprisingly, the pert little coupe-like deck opens up to reveal the wide opening of a hatch - we were easily able to load a couple of suitcases and several laptop bags into the generously spacious trunk. At 416 litres, the tC's cargo hold is considerably larger than nearest competitor Kia Forte Koup's 358 litres.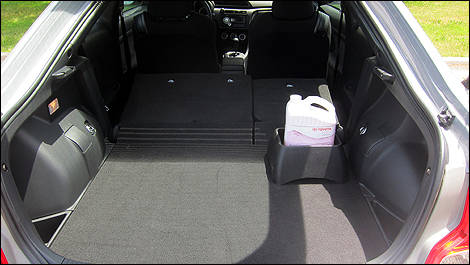 At 416 litres, the tC's cargo hold is considerably larger than nearest competitor. (Photo: Lesley Wimbush/Auto123.com)