We've been waiting for Scion for years to arrive in Canada. Since their introduction on US soil, targeted at a younger customer base than Toyota's ever-rising average buyer age, we always figured that Scion was a perfect fit for Canadians: small, fuel-efficient and spacious cars that are affordable and that offer a plethora of customizing possibilities.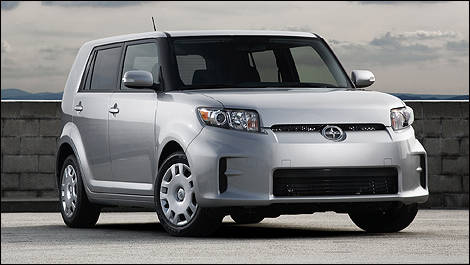 Dimensions-wise, the xB rides on a 2,600-mm wheelbase and has a length of 4,249 millimetres. (Photo: Toyota)
After waiting patiently for eight years, they're finally crossing the border. We'll get the xB and xD hatchbacks, a redesigned-for-2011
tC Coupe
and an intriguing little number called the iQ that should give the
smart fortwo
a headache.
The most famous Scion is obviously the
xB
. The first-gen model was small but spacious, square like a toaster but without the two slots on top. For the 2008 model year, the xB got a redesign and was Americanized in the process, growing in every dimension and getting a bigger (read: less fuel-efficient) engine all the while. Still, the xB is an interesting vehicle in several aspects.
Dimensions-wise, the xB rides on a 2,600-mm wheelbase (same as Corolla and Matrix) and has a length of 4,249 millimetres. Compared to the most common box-on-wheels we know in Canada, the aging Honda Element, the xB is about the same size except a little lower in height. If you live in urban areas such as Montreal, you've probably seen first and second-gen xBs on the road already, but they're refugees from the US market.
With the redesign, the 1.5-litre four was dumped in favour of a 2.4-litre engine that develops 158 horsepower and 162 pound-feet of torque. Transmission choices include a 5-speed manual or an optional 4-speed automatic. The xB rides on an independent suspension up front and a torsion beam at the rear; it also includes electric-assist power steering, 16-inch wheels with hubcaps as well as 4-wheel disc brakes with ABS.
If all this sounds familiar, it's because when the xB was redesigned, it switched from the Yaris' architecture to the Corolla/Matrix's.
The first xB was appreciated for its generous cargo hold, and the second xB is even better: 614 litres with the rear bench seat upright, 1,979 litres with the bench folded. It's as spacious as a Toyota Venza.
The equipment list for Canadian-spec versions hasn't yet been announced, but we'll go out on a limb and assume that Canada and USA models will be more or less the same. (Photo: Toyota)