Like most car enthusiasts I know, I've looked upon the last few years with a growing sense of unease about the future of our industry, tempered with acceptance of the inevitable. As someone who loves the exhilaration of guiding a fast car on a twisty road, yet is sick at heart at the number of rapidly vanishing species, I know it's time we ended our voracious consumption of fossil fuels and the devastating consequences of their emissions.
My tester, an Arctic White, fully loaded Sport model valued at $175,000 Cdn, has a removable, roll-up cloth targa top. (Photo: Lesley Wimbush/Auto123.com)
But it's been really difficult to summon any genuine enthusiasm for any of the existing hybrid alternatives on an emotional level. Sure, I've driven some technologically impressive vehicles that fulfill their low
consumption
/negligible emissions claims admirably, but my pulse doesn't quicken at the memories. And the pious, self-righteousness of some "green car" drivers feels like a wagging finger at the resources-gobbling self-indulgence of those of us who still love the automobile.
Ironically, the ultimate reward for the deep-pocketed enthusiast just happens to be the greenest sports car on the market today.
Tesla, the boutique car manufacturer whose own battles against extinction have been as newsworthy as their revolutionary electric sports car, has just released the
Tesla 2.5 Roadster
. Available in a base model roadster ($125,000) and a roadster sport ($147,000) with a host of available options, the new Roadster sprints from 0-100 km in 3.7 seconds (sport model).
While the Tesla Roadster's drivetrain remains essentially the same, the exterior has been reworked. There's a host of sound-deadening improvements and electronic upgrades to the cabin and an optional 10-way adjustable suspension system.
Powered entirely by a 70-lb electric motor the size of a watermelon that puts down 288 hp and 295 lb-ft of torque through the single-speed fixed gearbox—the Roadster produces no tailpipe emissions… because it has no tailpipe.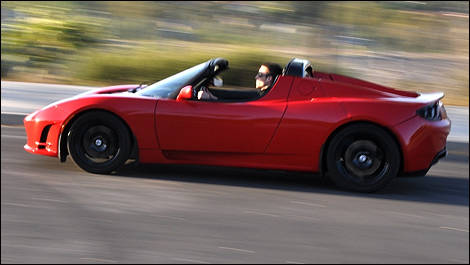 The 2011 Tesla 2.5 Roadster is powered entirely by a 70-lb electric motor the size of a watermelon that puts down 288 hp and 295 lb-ft of torque. (Photo: Tesla)