The compact multipurpose vehicle market—or microvan, whatever you want to call it—is about to double its product offering. After the
Mazda5
and the
Kia Rondo
, Ford will introduce its C-MAX and GM will launch the Chevrolet Orlando before the end of the year.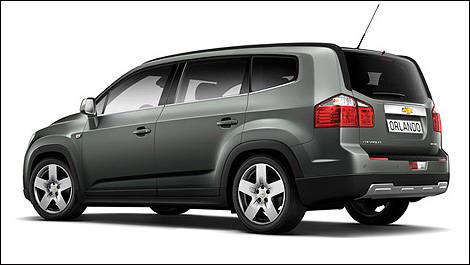 It currently is on sale in Europe, as it was first presented to the public at the 2010 Paris auto show. (Photo: General Motors)
Let's face it; a pint-size family hauler makes sense for many reasons: reasonable price, good fuel economy and a more-manageable package for tackling shopping mall parking lots. In Canada, the Mazda5 and Rondo are selling pretty well, but in the U.S., consumers are still hooked on bigger vehicles, which is why the Orlando will be an exclusivity for us, for now.
However, it currently is on sale in Europe, as it was first presented to the public at the 2010 Paris auto show. This is good: let the Europeans deal with the teething problems, and then send it over here. We still don't know where the Orlando will be assembled, but we'll take a guess that it'll be either in Mexico or in Oshawa, Ontario.
With a wheelbase of 2,760 millimetres and a length of 4,652 mm, the Orlando is longer than a Cruze sedan (upon which it is based) but obviously shorter than an Equinox. It does, however, offer three rows of seats, so up to 7 passengers will fit inside.
European versions offer the choice of a 1.8-litre gasoline four (139 horsepower) and a 2.0-litre diesel four (129 or 161 horsepower). The Canadian-spec Orlando will rely on only one engine, a direct-injected 2.4-litre inline-4 that will develop about 178 horsepower, while 6-speed manual and automatic transmissions will be available.
Chevy's MPV will also feature a MacPherson strut front and torsion bar rear suspension, disc brakes with ABS all around and electric-assist power steering. Depending on trim level, 16- or 18-inch wheels will be available.
Inside, you'll find a stylish instrument panel complete with blue ambiance lighting and familiar GM switchgear. The radio control cluster cleverly flips up to reveal a storage bin that's spacious enough to fit portable devices such as your smartphone or your MP3 player.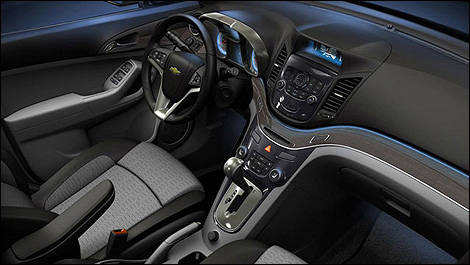 Inside, you'll find a stylish instrument panel complete with blue ambiance lighting and familiar GM switchgear. (Photo: General Motors)