After a 27 year absence, Fiat is back! The iconic Cinquecento has been reborn and will be
on sale here in Canada
sometime in late February 2011.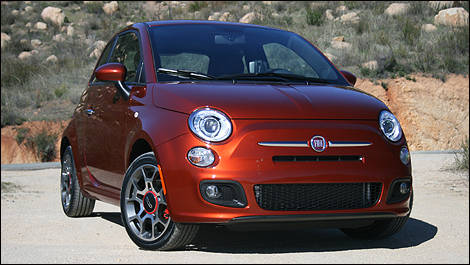 With small cars being all the rage these days, Fiat's re-birthing has come at a perfect time. (Photo: Lacey Elliott/Auto123.com)
The original Fiat factory opened in Italy in the very early 1900's and the 500 was unveiled in 1957. After WWII, the European market called for city cars, and this rear-engine vehicle ended up being very successful. Its small size proved to be surprisingly practical. Production of this 'scooter with a roof' stopped in 1975 and the line was retired.
For the re-launch of this incredibly cute little car, I am here in beautiful San Diego. It's not Italy but the vineyards, winding roads, and beautiful coast of Southern California make the Fiat seem more at home.
Without a doubt – this car is a
Fiat 500.
I am so impressed that they managed to keep its stunning Italian styling so close to the original. It looks simple and robust. The designers kept the clam-shell shape of the hood and added new circular projector, bi-halogen headlamps and lower fog lamps. The back end kept the logo from the original 500; a signature chromed license-plate brow motif.
Measuring just 3.5 metres in length, this 500 is on par with the Mini Cooper. On paper, the legroom and cargo area of the Cinquecento is just a bit larger than that of the Mini. Sitting in the back seat, I can't tell the difference. No matter how you slice it, this is a very small car and I don't even think that a small child would enjoy sitting back there for a long period of time.
Compared to the Mini, I notice that there is more room in the trunk – not a huge difference, but I had an easy time putting my suitcase in the back of the 500.
Just like an Italian suit is designed to fit each person's unique body, the 500 can be personalized to fit its owner's distinctive tastes. There are three trim levels that are available in fourteen gorgeous exterior colours, eleven unique seat colours, five wheel choices and three roof options. Chrysler expects that you should be able to pick your colour and have it delivered in 6-8 weeks.
The good looks are carried forward to the interior, again inspired by the original. A simple layout and clean lines have really made this car modern. The materials are first rate and the fit and finish give it a more polished look. The leather wrapped steering wheel feels great in my hands.
The good looks are carried forward to the interior, again inspired by the original. (Photo: Lacey Elliott/Auto123.com)