Infiniti today announced the vehicles that will be on display at the 2011 Canadian International Auto Show (CIAS) in Toronto, highlighted by the Canadian premiere of the
2012 M Hybrid sedan
.
The M35h uses Infiniti's 3.5-litre V6 engine in conjunction with a 50-kW electric motor and a lithium-ion battery, providing a net output of 360 horsepower through a 7-speed automatic transmission. Fuel consumption is projected at 7.8 litres per 100 kilometres.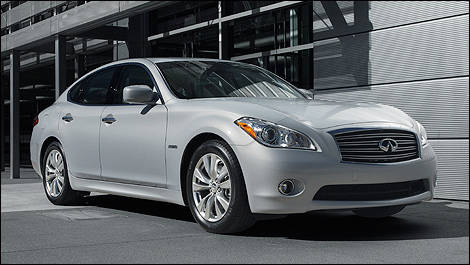 2012 Infiniti M35h (Photo: Nissan)
Thanks to the all-new Infiniti Direct Response Hybrid system, which teams up with a Hybrid Electric Power Steering system and Electric Driven Intelligent Brake regenerative braking system, the automaker promises great energy conservation and a natural, enjoyable driving feel. The M35h can drive on electric power alone at speeds up to 100 km/h and travel on electric propulsion for up to 1.9 kilometre.
It will arrive in showrooms this spring.
In addition to the M35h, Infiniti Canada will also have its full lineup on display including the all-new 2011 Infiniti Performance Line G37 coupe, the G25 sedan, the QX sport utility vehicle as well as the EX and FX crossovers.
The CIAS will take place from February 18 to 27, 2011 at the Metro Toronto Convention Centre.