FÜRSTENFELDBRUCK, Germany –
We're hurtling down the runway of an ex-military airfield at 200 km/h in a John Cooper Works MINI Coupé. The driver's footwork is a blur, the car dances at the very limits of adhesion as we slide around the hairpin, staccato exhaust blatts punctuating every downshift.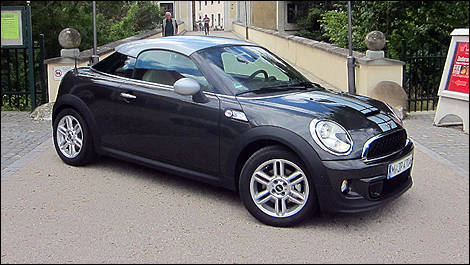 The MINI Cooper Coupé is built in Oxford, Britain, with a convertible version called the Roadster to follow in spring of 2012. (Photo: Lesley Wimbush/Auto123.com)
That a front-wheel drive car could swing its rear end out with such abandon is perhaps not so surprising given that the driver, Rauno Aaltonen, has competed and won at nearly every world rally stage since the 1960s, and was perhaps best known as one of rally's infamous Flying Finns.
"We use sport setting" he says, "which makes steering a little heavy for some drivers, but for us… just right, yah?"
Yah, indeed.
Although it wouldn't dance for us quite like it did for Rauno, my driving partner and I later had the
MINI Coupé
cavorting around the Bavarian countryside like a playful border collie let off its lead. With stability control turned off, the Coupé threatens to rotate on its axis, but is easily persuaded back on track.
I'd read reports that the JCW MINI Coupé could be too harsh in Sports mode with its stiff dampers and low-profile tires. We happily disagreed.
Over narrow laneways, winding past tiny pastoral villages, cement-topped ribbons tunnelling through towering fronds of corn, and over the choreographed wonder of the autobahn, our Coupé's tightly sprung suspension always felt exactly right. Sure it's stiff, but not to the point of punishing.
Our drives were limited to the 141-hp, 2.0-litre turbodiesel model and the marvellously well-endowed 208-hp JCW. We Canadians won't be getting the diesel, and trust me, this is no great loss as its performance is lacklustre and devoid of the characteristic sparkle – its narrow powerband making it hard to determine which gear to be in. Unavailable for testing was the basic 121-hp Cooper.
Standard is a six-speed manual transmission with nice short throws and easy clutch take-up. There's plenty of feedback through the small but meaty steering wheel, which was a boon passing head-on farm machinery on twisty rural roads that seemed only slightly wider than our diminutive car.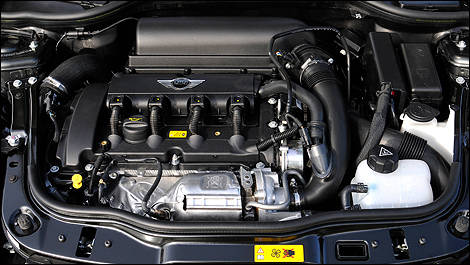 Our drives were limited to the 141-hp, 2.0-litre turbodiesel model and the marvellously well-endowed 208-hp JCW. (Photo: MINI)