Despite Volkswagen's catchy marketing motto, "Autobahn for All," it isn't all about speed when it comes to all the latest Vee-Dubs. With the likes of the GTI and new turbocharged
2012 Beetle
, most VWs are more about German engineering, amenities and owner satisfaction. Over the years, I've come to appreciate the Volkswagen marque and its lineup of vehicles – and the brand-new 2012 VW Passat 2.5L is no exception.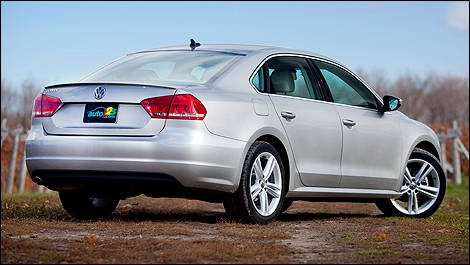 For my particular tester, the 2012 Passat 2.5L Highline, the price starts a tad higher at $31,475. (Photo: Sébastien D'Amour/Auto123.com)
There's something refreshingly simple about VWs that always keeps me coming back for more. I'm always faced with an "Oh, it's so boring and simple" reaction when I first lay eyes on a Volkswagen, and that usually carries over when I sit inside. Then, after a day of driving and living with the car I realize just how amazing all those "simple" and "boring" bits are as a whole. And that's what Volks is really all about.
German simplicity at its best
Never has the demure, humble exterior of a car stolen the spotlight more than in the 2012 VW Passat 2.5L. Decked out in a fabulous (not) champagne-gold colour called Tungsten Silver Metallic, the four-door sedan seemed as unassuming and "normal" as the nondescript, in-need-of-an-update
2012 Nissan Sentra
I'd had the week before. And yet, it garnered more attention than some of the fancier, brighter-coloured vehicles I've had over the past few months.
Everywhere I went, the brand-new, chromed three-bar grille with the massive chrome VW symbol in the middle caught passersby attention and held it. With squared-off, Scirocco-ish headlights under a subtly sculpted hood and honeycombed lower bumper, I started to see what everyone else was seeing the more I looked at the 2012 Passat's mug.
Sweep your eyes down the flanks of the Passat and you'll be pleasantly surprised at its gently sloping roofline sitting atop 18" five twin-spoke alloy wheels; you might be shocked by its almost-sporty stance. Move to the rear and VW once again gently nudges the notion of sportiness out of you with a barely-there spoiler off the trunk atop modular taillights. The whole package is quite becoming, despite the drab colour, and I began to understand the German's appeal by the end of the week.
Truly, it's the chunky chromed grille that catches the most attention at first, but the rest of the car drags you in and keeps you looking; which is incredible for all its simplicity.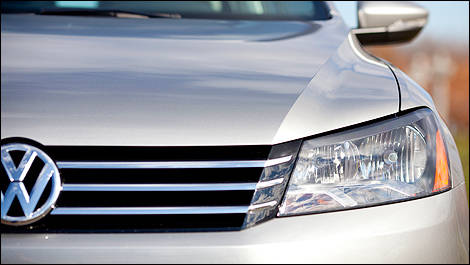 Everywhere I went, the brand-new, chromed three-bar grille with the massive chrome VW symbol in the middle caught passersby attention and held it. (Photo: Sébastien D'Amour/Auto123.com)