History/Description
: A high-luxury, low-stimulation driving experience was the main promise of Lexus' last-generation ES. A Camry-based, front-drive luxury sedan, it offered standard V6 power, a sumptuous cabin, premium goodies and all of the sensible stuff Lexus is known for,including high resale values and owner satisfaction.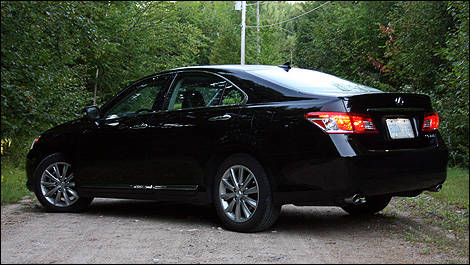 Photo: Michel Deslauriers
The
ES
had plenty of room for 4 or 5 adults, a generous trunk, and plenty of at-hand storage. Look for a 3.5L V6 engine making around 270 horsepower on all models. All ES models were front-wheel drive and fitted with an automatic transmission.
Feature content included navigation, a premium Mark Levinson audio system, a sunroof, remote access, Bluetooth connectivity, leather and wood interior trim, and plenty more.
What Owners Like About The Used Lexus ES
: Styling, a calm and quiet ride, a richly trimmed interior and a fantastic stereo were all commonly noted by Lexus ES owners talking to the web with their ownership experiences. Engine performance and stable handling were also highly rated.
What Owners Dislike
: Some owners wish for a more exciting driving experience, sportier handling, stickier factory tires and easier-to-use infotainment and navigation controls. Further, some owners are offended at the "locking out" of numerous functions in said infotainment system while the vehicle is moving.
Photo: Michel Deslauriers