While BMW may herald "M" as the most powerful letter in the alphabet, if I could rewrite the age-old list I'd put "S" right next to it. Why? Well, Audi's S-driven family of sedans and coupes definitely have something to do with it, as does the brand new
2013 Audi S6
powerhouse.
It might have four doors, but that doesn't mean it will be a run-of-the-mill sedan. The 2013 Audi S6 will hit the 100km/h mark from zero in less than 5 seconds. How? With i's 4.0L V8 TFSI engine that produces 420 horsepower and 405 lb-ft of torque.
Really, I could stop there. That's all you need to know. But there is more:
Althought the 2013 Audi S6 sports a rear sport differential, their renowned quattro all-wheel drive is present to monitor the wheel's performance on the road at all times to adjust grip as you need it. This will help eliminate understeer to keep you firmly planted around the corners you'll inevitably encounter in your S6.
And it's not just Audi's quattro technology that works to keep you on track: Rack and pinion steering with Servotronic Speed Sensitive Power Assist as well as 5-link front suspension, wishbone and sport air suspension are set to make driving the 2013 Audi S6 as dynamic as possible. Ventilated disc brakes all around will help bring the S6 to a halt, even if you want to try and hit the 250km/h top speed.
Making your way up to that top speed can be achieved via Audi's S tronic 7-speed autobox.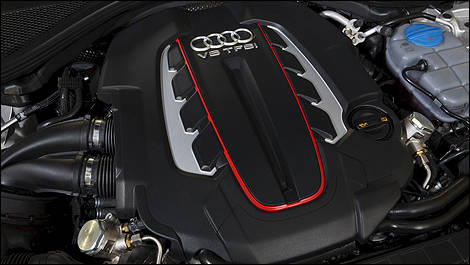 The 2013 Audi S6 will hit the 100km/h mark from zero in less than 5 seconds. (Photo: Audi)
While Audi is not the only manufacturer to offer a cylinder-management system, it's something they are quite proud of in the 2013 Audi S6. In basic, layman's terms their cylinder management system monitors throttle response and uses the right amount of cylinders based on this. For example, cruising on the highway means a 4-cylinder drive; mash the throttle and all eight will fire up.
This nifty bit of technology will help you save a bit at the pumps and allows the 2013 Audi S6 to reach fuel consumption numbers in the 12.7/8.3 city/highway range. Not bad for a car that pushes out over 400 horses.
The interior of the 2013 Audi S6 is set to be a very pleasant place, indeed. Along with the Valcona leather seats embossed with the "S6" logo, the vehicle will be outfitted with 4-zone automatic climate control; power-adjustable driver and passenger seat; heated front and rear seats; an electrically controlled blind for the rear window and manual shades for the rear passenger windows; rain and light sensors; electric tilt and telescopic steering wheel; and leather throughout, the 2013 Audi S6's list of standard features is long and plentiful -- just as it should be.
Options are few, but include Bang & Olufsen Advanced Sound System, adaptive cruise control, ventilated front seats, rear- and top-view cameras, Audi head-up display, night vision, adaptive cruise control, and their signature LED headlights.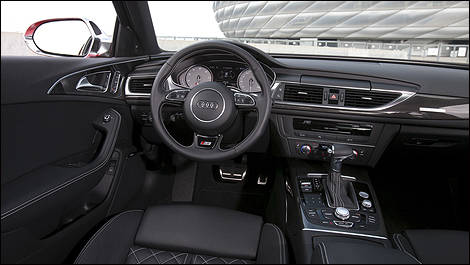 The interior of the 2013 Audi S6 is set to be a very pleasant place, indeed.(Photo: Audi)
From the outside, the 2013 Audi S6 has received the same front fascia treatment seen across the Audi lineup: beefier grille, aggressive headlights and exaggerated bottom lip. With the optional LED headlights, the Audi S6 has a menacing look that is instantly recognizable on the road. Despite the four-door set-up of the 2013 Audi S6, it still manages to achieve a sporty stance sitting atop optional 20" 5-twin-spoke design alloy wheels.
The entire sporty, rather attractive 2013 Audi S6 package can be had now, starting at $82,300.
2013 Audi S6 4.0 TFSI quattro
2013 Audi S6 4.0 TFSI quattro