Premium fuel saving
I'm all for saving money, truly I am, but when that money-saving involves spending more money then the logic is lost on me. Don't get me wrong, I'm also concerned about the polar bears, rainforests and global weather patterns, but again I can't quite justify paying a premium for a few seconds of idle sans engine.
Here's the deal: The
2013 BMW ActiveHybrid 3
is a fabulous machine inside and out. It looks hot, drives well and offers up some fuel-saving techniques. It's a technological feat BMW should be proud to call their own, but is it worth the extra money to own?
Not in my books.
What is the BMW ActiveHybrid 3?
Essentially, the BMW ActiveHybrid 3 is a 3-Series that sports an electric motor and a combustion engine. On board is a high-performance lithium-ion battery along with one of BMW's TwinPower turbocharged engines. It is a 3-Series like any other: same interior and exterior design. The trunk is essentially chopped in half thanks to the onboard battery, but otherwise everything stays the same.
The 3-Series is perhaps BMW's most recognizable lineup. Introduced in the '70s as a luxuriously economical vehicle, the BMW 3-Series has continued its success since then. The ActiveHybrid 3 is just another notch in the 3-Series belt, another version built to appeal to a new kind of BMW customer looking for luxury, performance and an upgraded form of fuel efficiency.
Technicalities
The 2013 BMW ActiveHybrid 3, as I stated above, is based on the
335i
model. Equipped with the same TwinPower turbocharged 3.0L inline 6-cylinder engine (good for 300 horsepower) works together with the electric motor (which adds another 35 horses to the stable) to get you from 0-100km/hr in just 5.8 seconds. All this is controlled via an 8-speed automatic transmission and can be manipulated via steering-wheel mounted paddle shifters.
Of course, the main selling point here is the fact that the 2013 BMW ActiveHybrid 3 can achieve these stellar performance numbers while also dishing out fuel mileage readings in the 7.0L/100km (combined) range.
Where all the numbers fall apart for me is in the pricing. The 2013 BMW ActiveHybrid 3 starts at $58,300. While it's not the most expensive 3-Series it is more than $7k over the 335i Sedan. And I can't quite see the justification.
Driving the BMW ActiveHybrid 3
Here's why: Hybrid driving is all about using less fuel, running on battery power alone.
I can count the number of times I drove on battery alone on one hand. I truly wanted to use the battery, but the engine kicked on so quickly (at 20km/hr or under a heavier foot) that I actually had to make a conscious effort to keep it on battery alone when in a parking lot. The start/stop function is good at lights, but can be had on any of the 3-Series in the lineup.
However, if you drive the 2013 BMW ActiveHybrid 3 as a normal 3-Series, it's fantastic. So, I decided to ignore the badging and consistently hit the "Sport+" button for optimal driving pleasure.
Steering is tight and on-point, and acceleration is fantastic as the 8-speed flips through gears seamlessly keeping you just where you need to be no matter what the situation.
The ECO PRO setting in the 2013 ActiveHybrid 3 takes efficiency to the next level. I immediately felt like I was driving through thick tar. Gas pedal and gearing are optimized for maximum efficiency, as are things like the HVAC system and even other electronics (for optimal battery use).
Inside and Out of the BMW ActiveHybrid 3
I'm absolutely in love with the new mug on the 3-Series. I think it's sharp, modern and oh-so sleek. I only wish that they'd changed up the rear too. Halo headlamps, strong, robust vehicle lines and a taught back end ensure the ActiveHybrid 3 retains its sporty heritage, despite the badging on the rear quarter panels.
Inside, it's business as usual for a 3-Series. Sport yet comfortable multi-adjustable seats hold and hug in all the right spots. BMW's iDrive system looks a little fancier with more animation in their menus, but essentially remains the same as the previous gen. All standard fair and all thumbs up.
Comparing the BMW ActiveHybrid 3
Here's where it gets a bit dicey. Currently, the 2013 BMW ActiveHybrid 3 kind of sits alone atop its expensive sports luxury hybrid sedan pedestal. However, in the near future it will have competition in
Infiniti's Q50 Hybrid
. Currently, on a lesser price scale, there's the
2014 Lincoln MKZ Hybrid
and
2013 Lexus ES300 h
nipping at the ActiveHybrid 3's rear wheels.
2013 BMW 3 Series ActiveHybrid 3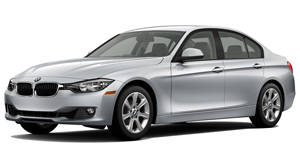 2013 BMW 3 Series ActiveHybrid 3