Price Range:
$82,300 and up
Description:
For driving enthusiasts of the most discerning variety, the BMW 3-Series Cabriolet is a car missing two little touches: a colourful little "M" badge on the trunk, and a high-strung little V8 that shrieks to a staggering 8,500 rpm.
Enter the
2013 BMW M3 Cabriolet
: the ultimate culmination of 3-Series performance and top-down driving thrills.
With the promise of generation's worth of motorsports engineering and research built into this highly exclusive package, the 2013 BMW M3 is a car like few other performance cars on the road. The extra power from its 4.0L engine is backed by aerodynamic and cosmetic upgrades, exclusive interior treatments, numerous track-validated chassis upgrades, and a wide range of support systems to help drivers extract maximum performance with minimal effort in the 2013 BMW M3.
Drivetrain:
The latest M3 powerplant is a 4.0L V8 that develops 414 horsepower and nearly 300 lb-ft of torque while en route to a screaming redline approaching 8,500 revs. Variable valve timing, direct injection and spark plug mounted oxygen sensors help constantly fine-tune and analyze the combustion process for maximum performance and fuel efficiency.
Six-speed manual or 7-speed dual-clutch transmissions are available, and all 2013 BMW M3 variants are rear-wheel drive.
Consider it if:
you're after a four-seat convertible that's nearly unrivalled in its blending of premium comfort, technology, and blazing performance for the money. Additionally, since the BMW M3 can be "fine-tuned" to the driver's exact tastes, it's easy and docile in daily commuting as needed, despite concealing a track-attacking onslaught of engineering efforts.
Skip it if:
a radar detector is illegal in your province, or you don't have many demerit points left on your license.
Other Notes:
The 2013 BMW M3 will get that for you -- whatever it is. Automatic lights, wipers, climate control, and seat-positioning memory function all self-activate and regulate, leaving drivers to simply sit back with the roof down and take in the sweet sound of combustion in their ears.
Navigation,
Bluetooth
, and premium leather seating surfaces are all on board for a high-tech, high-class atmosphere, and the iDrive system in the 2013 BMW M3 lets drivers manipulate hundreds of vehicle functions with a few millimeters of fingertip movement.

Don't Miss:
the "M" button on the steering wheel. Press it and a fully customized vehicle dynamics program is called into action in mere milliseconds, putting the M3 on notice that the driver is after some thrills.
The driver can pre-program settings assigned to the M button, selecting various modes for steering, gearshift speed and harshness, suspension stiffness, steering calibrations, rear differential lockup factor, and more.
Also, be sure not to miss the active tachometer that changes its yellow and red segments based on oil temperature and suggests earlier upshifts until the engine is hot. An LED shift indicator, built into the top of the trim ring around the tachometer, also gives drivers a visual countdown to their next upshift at full throttle, without having to take their eyes off the road.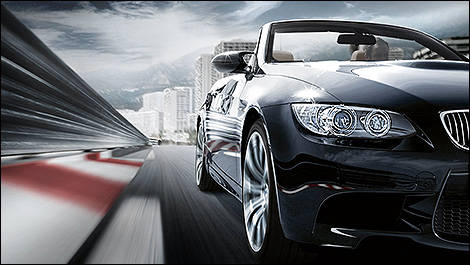 Photo: BMW