Price Range:
$42,860+
Description
: Today's premium coupe shopper wants it all, including ever-improving performance and fuel efficiency to go with world class styling and features.
As the most dynamic and striking of the Cadillac CTS models, the CTS Coupe is designed and engineered to deliver on these fronts, highlighting the brand's artful design language at every turn.
In addition to its striking exterior styling, the Cadillac CTS Coupe boasts one of the richest and most sophisticated cabin environments in its segment. Look for metallic accents, stitched leather and various contrasting colours and textures for an upscale feel.
High-tech and comfortable, the 2013 Cadillac CTS Coupe's cabin is designed to be an energetic retreat for its owners and their passengers. With easy-to-access rear seating and a surprisingly generous trunk, it's a cinch to bring your friends along for the ride.
Drivetrain:
Under the 2013 Cadillac CTS Coupe's hood is a potent 3.6L V6 engine that comes fitted with numerous advanced systems that intend to boost performance and efficiency. Plenty of power is delivered alongside modest fuel consumption thanks to Direct Injection (DI) technology, Variable Valve Timing (VVT), and a variable intake system.
The engine was recently enhanced by the CTS engineering team and now delivers 318 horsepower. Revisions to engine design have made the 2013 Cadillac CTS Coupe engine lighter and more efficient, and shoppers can expect no penalty in fuel consumption despite the extra output. Six-speed transmissions continue to help enhance both performance and fuel efficiency. All models are automatic, and all-wheel drive is available.
Consider it if:
a world-class touring coupe with all of the luxury goodies is on your shopping list. Thanks to top safety ratings and the confidence of OnStar and available AWD, the 2013 Cadillac CTS Coupe is also tops when it comes to confidence on the go. As a 2+2, it's able to carry the kids along for the ride when required.

Skip it if:
you're after all-out performance and handling, as the standard 2013 Cadillac CTS Coupe range is more geared towards long-distance comfort and touring. If you want to shift your own gears you'll have to look elsewhere, too.
Other Notes:
Available high-tech features include
Touchpad-activated keyless entry system
Satellite-linked navigation with real-time traffic updates
Bluetooth hands-free phone interface
Fully automatic temperature-sensing automatic climate control system
Remote start is standard on all CTS models for 2013, and advanced OnStar functionality can be accessed via the owner's Smartphone. Audiophiles will love the BOSE audio system, too.

Don't Miss:
You've heard about Cadillac's legendary ride quality and the 2013 CTS Coupe offers it up in several ways. Shoppers can specify a performance suspension calibration for increased precision and responsiveness over the standard sport suspension. An enhanced braking and cooling system is also available for high-performance driving, while a Touring Package adds 19" wheels, microfiber suede seats, sports pedals, Recaro seats, and more.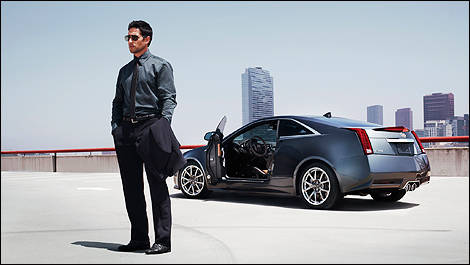 Photo: Cadillac
2013 Cadillac CTS