Following the unquestionable success of its Transit Connect, Ford recently announced its intention to bring its full-size Ford Transit to North America, and an eco-friendly oil burner is set to appear on the option list!
For years, the aging E-Series has struggled to keep pace with the ever-changing demands of commercial buyers here in North America. Traditional panel vans did a fine job when gas was reasonably priced, but with escalating fuel costs buyers have been seeking new ways to cut down on operating expenses. Some have been wise to reduce vehicle size, which is perhaps why the handy-size Transit Connect has had such a huge impact on the market. Of course, this only works for a percentage of buyers, so others have been heading in the completely opposite direction by increasing vehicle size in the hopes of cutting additional vehicles from their fleets.
Until now, this has been the domain of the larger-than-most, diesel-powered
Mercedes-Benz Sprinter
and this vehicle's proved itself a hot seller with certain industries.
However, it's common knowledge that these larger-style vans, and variants thereof, have dominated commercial vehicle sales in Europe and around the world for several years, so it's hardly surprising that Ford now wishes to bring this logic home to North America.
The current world Transit is due for an update this year, and it's this next generation vehicle we shall receive. Due to launch globally later this year, expect to see the new full-size global Transit arriving in N.A. dealerships as a 2014 model.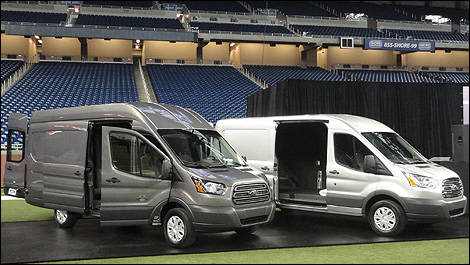 Due to launch globally later this year, expect to see the new full-size global Transit arriving in N.A. dealerships as a 2014 model. (Photo: Kevin Corrigan)
The good news is, we shall receive a choice of three powerplant options: the base 3.7L V6, a healthy 3.5L EcoBoost V6, and the fuel-efficient promise of a 3.2L turbo-diesel. The Transit will also be available with a choice of roof heights, low/med/high, (Interior height 55.8"/72"/81.5") and come in several wheelbases including SWB, LWB, and Jumbo dually. Chassis cab models will also be available in 250, 350, and 350HD.
For those who are unfamiliar with the name Transit, it's a commercial nameplate which has been around since the '60s, and is currently the No. 1 commercial vehicle in Europe. It is also renowned for offering the highest number of configurations available in the industry. In fact, there are literally thousands of configurations available to Transit customers worldwide today. While it's unlikely that we will enjoy such a vast choice from the onset, the company has already stated its intention to offer the widest range available in North America.
Automatic transmission will be standard throughout the range, although a 6-speed manual is currently offered in other markets, so it's possible that this will follow at some later date.
The new N.A. Transit will be built at the Ford plant in Kansas City, Missouri, and there will be a short production overlap with the current E-Series.
Writer's note: Ford Canada has allowed me the unique opportunity to evaluate its current Euro-spec Transit right here in Canada. Yes, it is the 3.2L turbo-diesel I'm getting, and it's a 6-speed Jumbo Dually so, although not identical to the vehicle we'll be receiving, I should be able to give you a pretty good idea of what to expect. So, stay tuned to Auto123.com in the coming weeks as we bring you an exclusive glimpse of the full-size Transit.
2013 Ford Transit Connect
2013 Ford Transit Connect