I've just returned from the Canadian launch of the all-new Hyundai Santa Fe. Well, if truth be told, as the aforementioned vehicle won't appear until sometime early 2013, what I've actually just experienced is the all-new 2013 Santa Fe Sport.
You see, the company plans to expand upon its Santa Fe lineup by including not only a direct replacement for its current model, but also a new, longer 7-passenger version which, although larger than the present model, will simply be known as the Santa Fe. Unfortunately, this all-new, supersize version (which will probably end up being referred to by most of us as the Santa Fe long wheelbase or LWB anyway), arrives after the all new replacement for the current standard-length model, which from here on is to be known as the Santa Fe Sport.
Confused? I'm not surprised, as it took yours truly a while to get his head around this little conundrum.
So, to reiterate; the out-going Santa Fe will be replaced by the 2013 Santa Fe Sport, and the LWB (although I'm not supposed to call it that), will become the new Santa Fe.
Phew! I'm glad I cleared that mess up!
Looking the part
So, what can I tell you about the new 2013 Hyundai Santa Fe Sport?
Well, the exterior certainly looks the part, what with its bold and stylish front end (think
Sonata
-like, and that's a good looking vehicle). Yes, although the previous generation was no Ugly Betty, this new 2013 Santa Fe is truly set to turn heads in the popular Crossover Utility Vehicle (CUV) market, and that's important for the company as the Santa Fe is one of its most successful nameplates.
Inside, the story follows along similar lines, and there's a surprising amount of standard equipment on offer in the 2013 Hyundai Santa Fe Sport including heated front seats, power windows, driver's seat power lumbar support, a six-speaker audio system (with Bluetooth® ), a tilt-and-telescoping steering wheel with audio controls, to name but a few. Move further up in the range and you'll discover such niceties as automatic climate control, leather-wrapped heated steering wheel, heated rear seats, leather seating surfaces, and possibly the best panoramic sunroof I've ever experienced.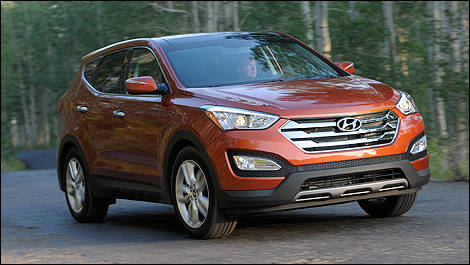 This new 2013 Santa Fe is truly set to turn heads in the popular Crossover Utility Vehicle (CUV) market. (Photo: Hyundai)

Powerful choices
Power in the 2013 Hyundai Santa Fe comes from a choice of two 4-cylinder engines. The 2.4L (190 hp) DOHC inline 4-cylinder with Gasoline Direct Injection (GDI) is standard. However, for those seeking slightly more oomph, there is also a high-output 2.0L T-GDI inline 4-cylinder engine with a twin-scroll turbocharger available. This unit produces 264 hp and 269 lb-ft of torque (using regular fuel), which is roughly 12 hp more than the outgoing V6, and it will tow a 3,500 lb trailer with relative ease. The turbo four would certainly be my choice, as it transforms this CUV into an FCUV ("F" for fun!).
All 2013 Hyundai Santa Fe models are equipped with a 6-speed automatic transmission with SHIFTRONIC® manual mode, which I will happily testify to be an extremely competent unit. Front-wheel drive is standard, but an advanced active All-Wheel Drive (AWD) system is also available on the 2013 Hyundai Santa Fe. This system automatically activates as required, although under normal driving conditions the system only distributes power to the front wheels, thus reducing fuel consumption (9.5L/100 km and 6.0L/100 km for the 2.4L FWD; and 9.8L/100 km and 6.4L/100 km for the 2.0T FWD).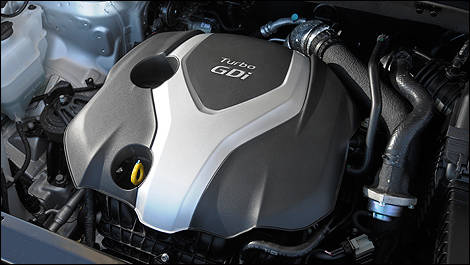 The 2.0L engine produces 264 horsepower and 269 lb-ft of torque. (Photo: Hyundai)
Sport on the badge and the road
On the road, the 2013 Hyundai Santa Fe handles well and is comfortable and surprisingly quiet. With MacPherson struts up front and a fully independent multilink suspension to the rear, the vehicle soaks up the bumps with relative ease. However, I did notice a slight bug with the steering. Although the vehicle features Hyundai's new Driver Selectable Steering Mode (DSSM) system, in anything but Sport mode it can appear a tad light at times. Select Comfort for city parking and it works well. However, if one forgets to switch back, you can expect a considerable amount of wander on the highway. I got around this by leaving the system permanently engaged in Sport mode.
Apart from that one small bug, the new 2013 Hyundai Santa Fe Sport is an exceptionally nice CUV.
Prices start at $26,499 for the 2.4L FWD, with the 2.0T AWD LTD topping out the range at $38,499. With most buyers expected to choose AWD, I'm going to predict that the well-appointed AWD Premium models will sell best at $30,299 (2.4), and $32,499 (2.0T).
You know, I may have been initially puzzled by the name change of the 2013 Hyundai Santa Fe, but I wasn't the least bit surprised to discover how pleasant this vehicle was. After all, the company has been batting well above average for some considerable time now, and the new Santa Fe Sport simply confirms this.
2013 Hyundai Santa Fe 2.0T Limited
2013 Hyundai Santa Fe 2.0T Limited