Pros and Cons*
Pros
The interior of the 2013 Infiniti M features high-grade materials and well-integrated, ergonomic technology. Agile on the road, the Infiniti M also offers a good selection of powertrains, including AWD.
Cons
However, the car suffers from reduced rear visibility, costly option packages and a slightly diminished look – it is not yet in the same league as its German competition.
Price
The M37, equipped with a 6-cylinder engine, starts at $52,500, which shoots to at least $55,000 for AWD (M37x). This model includes a push-button smart key and a power sunroof.
Equipped with sport suspension, a navigation system, sport seating and 20-inch aluminum alloy wheel rims, the M37 Sport AWD is available for $63,500.
The M56, which features a V8 powertrain, is offered at $66,300 while the AWD M56x is available for $68,800. Both these prices include a navigation system and Bose audio system.
Starting at $73,500, the M56 Sport has all the equipment of a M37 Sport, but it's equipped with a V8 engine.
A hybrid version is available for $67,400.
Fuel Economy
The M37 is rated at 7.6 L/100 km in the city and 11.4 L/100 km on the highway. In four-wheel drive, its ratings climb to 8.3 L/100 km – city and 12 L/100 km – highway.
The M56's fuel consumption is rated at 8 L/100 km for the city and 12.9 L/100 km on the highway. With AWD, it's an additional 0.5 L/100 km.
Exterior Styling
Thanks to its pronounced curves, its distinctive, horizontal-lamelle grille and pronounced hood, this sedan is easily identifiable as a member of the Infiniti series. With tapered headlights and a domed rear, the Infiniti M has a classic presence.
Drivetrain
The basic powertrain includes a 3.7-litre, V6 engine which delivers 330 hp and 270 lb-ft of torque.
The sedan is also available with a 5.6-litre, V8 engine. Yielding 420 hp and 417 lb-ft of torque, the engine is coupled with a 7-speed transmission with manual mode for either the two rear wheels or on all four wheels.
The hybrid model is equipped with a 3.5-litre, V6 engine along with its electric engine.
Cargo Capacity
The trunk provides 422 litres of storage space, a little more than the Acura TL or the Audi A6.
Safety
Along with six airbags, electronic brake force distribution, vehicle dynamic control and a traction control system are a few of the 2013 Infiniti M's safety features sure to give drivers some peace of mind.
Comparable Models
Acura TL
, Audi A6, BMW 5-Series, Cadillac XTS, Jaguar XF,
Lexus GS
,
Lincoln MKS
, Mercedes-Benz E-Class, Volvo S80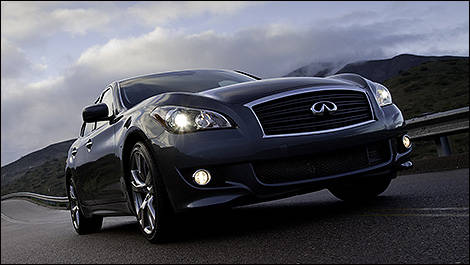 Photo: Infiniti
*References
Crépault Michel, L'annuel de l'automobile 2013, Montréal Transcontinental, 2012, p.322
Duquet Denis, Le guide de l'auto 2013, Montréal, Les éditions de l'Homme, 2012, p.342
www.infiniti.ca