If you're even slightly savvy about commercial vehicles, you're probably up on the fact that Nissan's launching products to compete with Chevrolet, Ford, Mercedes and the like currently available. They've even set up some 44 Nissan Commercial Vehicle dealerships across Canada.
The latest model to drive Nissan's dip into the Canadian commercial vehicle market is called the NV200 and it took its official first bow at the Montreal Auto Show last month. It's no surprise that Nissan chose Montreal for the NV200's Canadian debut, given the strong European consumer presence in Montreal, and the strongly European character of the model itself. In fact, NV200 won the title of "European Van of the Year" in 2010.
"There is an increasing need for a 'right-sized' van that optimizes cargo space while offering the best possible fuel economy and an affordable price -- the exact sweet spots of the innovative new
Nissan NV200
," said Judy Wheeler, Director of Marketing at Nissan Canada. "Businesses today, both large and small, are also looking for vehicles that represent their brands in the best light: smart, innovative, and professional."
The Nissan NV200 is the third commercial vehicle offering from the Japanese automaker in Canada, following the NV Cargo and NV Passenger vans which launched last year.
Though new to Canada, the NV200 is already in service in more than 40 countries around the globe. For North American duty, engineers extended the body by 200 millimeters, enabling a 3.5 cubic meter cargo capacity, despite a small external footprint.
Numerous interior storage solutions, including a laptop-friendly pocket in the centre console, are also present. A backup camera, Bluetooth, navigation and pre-wiring for GPS-based telematics systems will also be offered. All models will be powered by a 2.0L 4-cylinder engine and CVT transmission.
Look for the NV200 at Nissan Commercial Vehicle dealers later this year.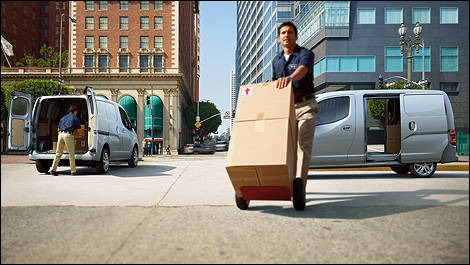 Photo: Nissan
2013 Nissan NV200