The name Katzkin is bar none, one of the best-known brands when it comes to tailoring your car's cabin to your personal tastes.
Their story starts in 1983 when the founders, brother and sister Mitch and Lesley Katz, started a leather goods manufacturing company. By 1986, they broke new ground in the car business by retriming the interior of a Honda Accord. The rest of the story reads like a who's who of top-line customers, namely Chrysler, Rawlings, and Ford.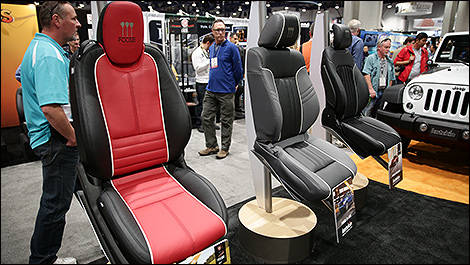 Photo: Olivier Delorme
Over the years, Katzkin purchased their own automated cutting machines and now hold production and design capabilities. In other words, they've grown into the reference as far as custom car interiors are concerned.
On the topic of design, Katzkin is taking it to a whole other level. Two and half years ago, they recruited David O'Connell as their Chief Designer. With 25 years as a Designer for Mitsubishi Motors Research and Design of America, he brings not only his experience but also passion for design to what could be viewed, in vulgar terms, as simply reupholstering some seats.
I sat down with Mr. O'Connell in his comfy seats at Katzkin's booth at the 2013 SEMA Show in Las Vegas for a little chat.