Uncleanliness can be described as many things, but in the automotive world, we can consider unnecessary weight, an overabundance of power and heavy fuel consumption as unclean. Many vehicles engrossed with these sins are nonetheless enjoyable, desirable and acclaimed, but if you have a soft spot for sports cars, it's always preferable to own one that is pure.
Like very few cars on the road today, the 2013 Subaru BRZ's purification occurred during gestation.
It seems as though you won't find an ounce of fat on the BRZ. Weighing in at a lowly 2,770 pounds, this new sports car is lighter than most of its competitors, including the
Honda Civic Si
, the
Volkswagen GTI
, the
Hyundai Genesis Coupe
as well as the Ford Mustang V6 and Chevrolet Camaro V6. Only the MINI Cooper S and Mazda MX-5 are lighter, while the BRZ's cousin, the
Scion FR-S
, is obviously of equal weight.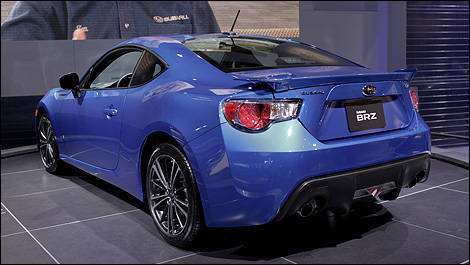 Weighing in at a lowly 2,770 pounds, this new sports car is lighter than most of its competitors. (Photo: Sébastien D'Amour/Auto123.com)
The car also benefits from a very low centre of gravity and a 53/47 percent fron/rear weight distribution with occupants on board. This is a small car with a wheelbase of 2,570 mm, an overall length of 4,240 mm and a height of 1,285 mm.
A smart collaboration
The Subaru BRZ and the Toyota GT 86/Scion FR-S twins were developed together in order to exploit the know-how of both Japanese manufacturers. Toyota took care of product planning and styling, while Subaru handled the cars' engineering and development. Inside and out, there are very few styling cues that distinguish Subaru's version from Toyota/Scion's. They will all be built in Subaru's assembly plant in the city of Ota in Japan.
In the early stages of development back in 2007, the first test mule was based on a shortened Legacy platform and used a modified Impreza rear suspension. The second test prototype was Impreza-based before adopting the production car's body and platform.
The car offers room for four occupants, but unsurprisingly, those sitting in back likely won't be very comfortable, if they manage to squeeze in. The rear seatback folds down to increase cargo space which, according to Subaru, is roomy enough to haul four extra wheels; you know, for track days.