Highlights
Reliability, agility about town, interesting fuel economy, and good value still define the 2013 Toyota Yaris.
Lowlights
Limited output (106 horsepower) affects this hatchback's performance. Owners who've shared their experience in online forums also lament the tight, noisy interior.
Pricing
Starting at $14,250 (freight and delivery charges not included), the
2013 Toyota Yaris
is cheaper than the Ford Fiesta, Honda Fit, Mazda2, and Kia Rio.
2013 lineup
The Toyota Yaris is no longer available as a four-door sedan, only as a hatchback. Three trim levels comprise the lineup:
-
CE
3-door at $14,250
-
LE
5-door at $14,890
-
SE
5-door at $19,250
Fuel consumption
The 2013 Toyota Yaris achieves a combined 6.0L/100km (city-highway) with the 5-speed manual transmission, as well as 6.2L/100km with the optional 4-speed automatic, which are reasonable numbers. However, there are many thriftier alternatives out there, even among non-hybrids.
Upgrades for 2013
A slightly longer wheelbase means more passenger room in the back. Moreover, a USB port and Bluetooth connectivity now come standard across the line. And while this change happened a year ago, it still deserves mentioning: The instruments have shifted from the top of the centre stack to the left side of the dashboard, right in front of the driver.
Exterior design
The 2012 overhaul positively rejuvenated the
Toyota Yaris Hatchback
. The new headlights and taillights combine with edgier lines to give the car a sharper look.
Powertrain
The 2013 Toyota Yaris is motivated by a 1.5L 4-cylinder engine that generates 106 horsepower and 103 lb-ft of torque. As mentioned earlier, the 5-speed manual gearbox can be replaced by a 4-speed automatic.
Safety
Nine airbags come standard on the 2013 Toyota Yaris, one shy of the class-leading Chevrolet Sonic. What's more, Toyota's STAR Safety System combines six advanced accident-avoidance technologies: Vehicle Stability Control (VSC); Traction Control (TRAC); Anti-Lock Brake System (ABS); Brake Assist (BA); Electronic Brake Force Distribution (EBD); and Smart Stop Technology in one comprehensive package.
Some advice...
If you're shopping for a small car because you want to save money at the pump and protect the environment, the Prius c may cost you $5,500 more at the dealership (including tax credits for hybrid customers), but it offers so much more equipment. Think about it.
Competitors
Chevrolet Sonic
,
Ford Fiesta
,
Honda Fit
,
Hyundai Accent
,
Kia Rio
,
Mazda2
, and
Nissan Versa
.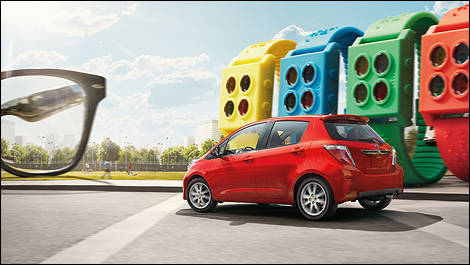 Photo: Toyota